With more than 300 days of sunshine, beautiful desert vistas, large motorcycle events, and plenty of day trip destinations, it's no surprise that Arizona is one of the best states to own a motorcycle. Enjoy Arizona winter motorcycle rides in ideal weather, ride into the mountains, get your kicks on Route 66, or plan a motorcycle trip to the Grand Canyon – your options are endless!
Are you shipping a motorcycle to Arizona to attend one of the state's top rallies or escape the snow and hit the open road? Are you selling or buying a bike or preparing to move to Arizona? Or are you shipping your bike from AZ for a Florida rally or relocation? No matter the reason for your motorcycle transport needs, you can count on Federal Motorcycle Transport for dependable motorcycle shipping services.
Reasons to Ship Your Motorcycle to Arizona | Shipping a Motorcycle to/from AZ
What is your reason for researching motorcycle shipping? Are you shipping your bike one-way or is it a round-trip transport? Here are just some of the reasons to look for trusted motorcycle shippers in Arizona.
Many of our customers need one-way transport to ship their bike to Arizona or back home for a motorcycle trip. Are you planning a motorcycle trip but don't feel up for a round-trip ride? Maybe you have limited time for your trip and want to save time by shipping your bike home. You may be shipping a motorcycle from Illinois to Arizona or from another northern state to enjoy winter motorcycle rides in Arizona. You definitely can't ride through the snow and freezing temperatures until you get far enough south!
View this post on Instagram
You'll find amazing scenery and spectacular weather in AZ, a motorcycle-friendly state where winter is actually the best time to ride! For stunning scenery and dramatic landscape changes, try the drive from Sedona to Flagstaff. The Cottonwood Canyon Run is a popular motorcycle route that takes you through the desert, up the mountains, and into the pine forests. Be sure to do a Route 66 motorcycle ride from Lupton to the Petrified Forest and into the Painted Desert!
For a truly grand ride in the Grand Canyon State, take a multi-day motorcycle trip from Phoenix to the Grand Canyon. The North Rim is the best route on a bike as it's enveloped by the forest while the South Rim has the best canyon views.
Are you shipping a bike for Arizona motorcycle events or rallies? There are several big events to make it worth your while.
Arizona Bike Week is one of the best motorcycle events in the state. With around 70,000 attendees, the multi-day Scottsdale event features group rides, vendors, displays, stunt shows, and a great party atmosphere. Arizona Bike Week is held during the second week of April and features big-name performers like Lynyrd Skynyrd, the Offspring, and Texas Hippie Coalition!
View this post on Instagram
Cave Creek Bike Week is another Arizona bike rally you won't want to miss! Daily live music, rides, vendors, prizes, and more centered on The Hideaway, a landmark motorcycle-friendly roadhouse near Cave Creek Regional Park. If you're up for an even bigger adventure, why not head to the Laughlin River Run? Started in 1983, it's the largest motorcycle rally in the West! The rally starts in Laughlin, Nevada with a huge weekend ride to Bullhead City, AZ, along Route 66 to Oatman and Kingman, then down to Lake Havasu City, AZ.
You may have a more practical reason to ship a motorcycle to or from Arizona. If you are moving from or to Arizona, you'll need to arrange a way to get your bike to your new home. Arizona motorcycle transport is a practical alternative to riding it or hauling it.
Did you sell a motorcycle and need to arrange transport to the buyer? Maybe you just got your Arizona motorcycle license and you bought the bike of your dreams – but now you need to have it shipped to you!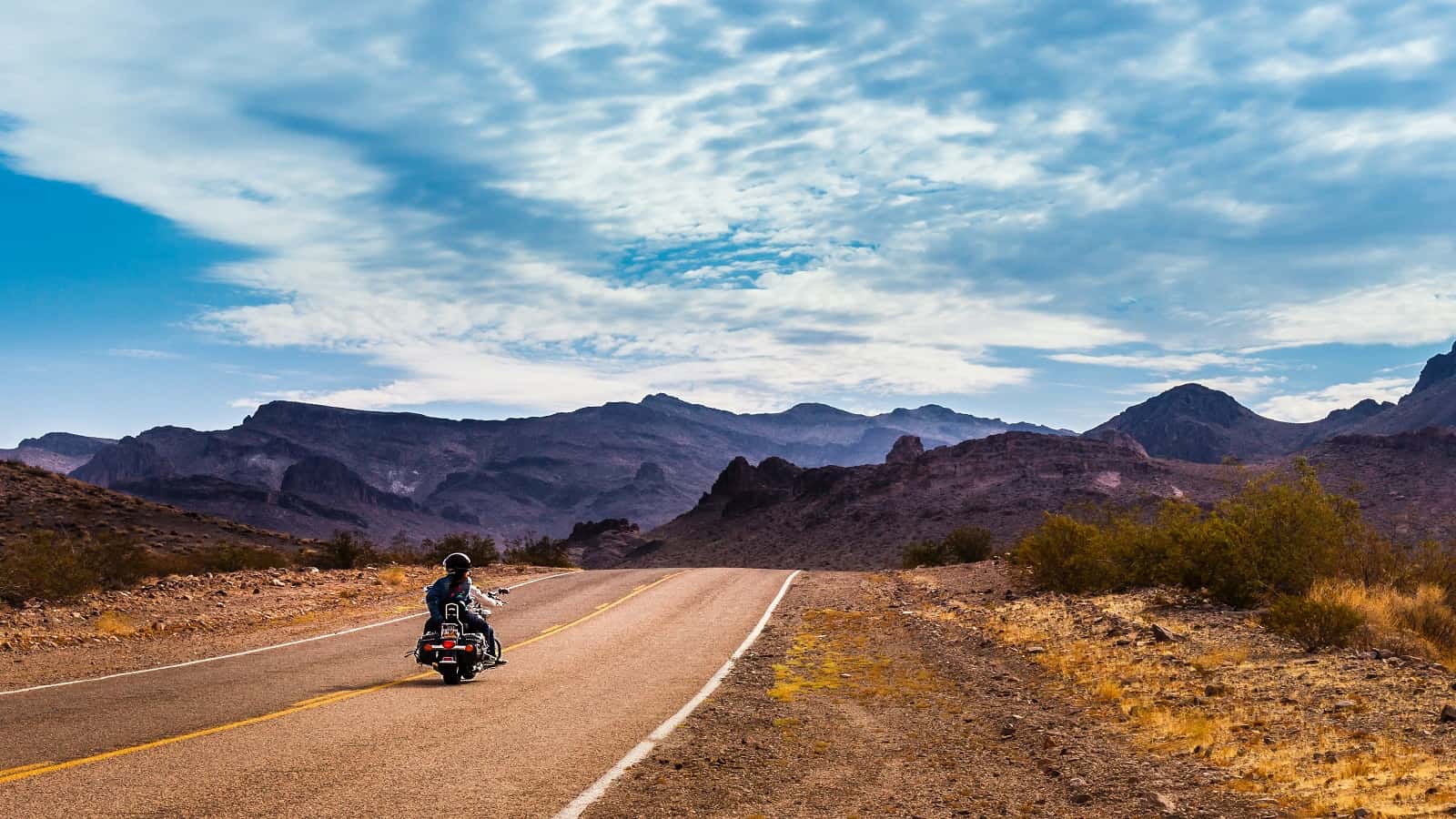 Whether you're shipping your bike home after a cross-country ride or a long winter vacation in Arizona, transporting a motorcycle you've bought, or you're relocating, there are many benefits to secure transport services.
Avoid unnecessary mileage and wear and tear on your bike
Enjoy your destination and getting there without the long haul back
Have your bike safely delivered to AZ during the winter from a cold climate
Benefit from the peace of mind and security of knowing your motorcycle will make the trip unharmed and without a scratch
Have a motorcycle not suited to a long ride delivered to your destination
Dependable Arizona Bike Shipping Services with Federal Motorcycle Transport
Don't trust your cherished bike to inexperienced motorcycle shippers in Arizona. Motorcycle transport requires specialized equipment, specific techniques, and training. If you choose an auto shipping company or freight hauler that doesn't specialize in motorcycle transport, you may be in for a sad surprise when you pick up a damaged bike that was exposed to the elements for a week or got damaged because it wasn't secured correctly in the truck.
Federal Motorcycle Transport has been a trusted Arizona motorcycle transport company for more than 30 years. About 70% of our business comes from referral and repeat customers thanks to our reliable delivery, personalized services, excellent customer care, and dedication to protecting your motorcycle every mile of the trip.
Every year, we transport over 5,000 motorcycles and we are the exclusive motorcycle shipping company for AMA and HOG. Rest easy knowing your bike has been secured to a custom pallet, loaded safely into covered transport, and constantly tracked.
Motorcycle Brands We Ship to/from Arizona | AZ Motorcycle Shipping Locations
Federal Motorcycle Transport has decades of experience shipping all types of motorcycles! From cruisers, touring bikes, and sports bikes to dirt bikes, choppers, and vintage motorcycles, you can rest easy knowing your bike is in good hands.
We transport all brands:
Suzuki
Yamaha
Triumph
Ducati
Indian
Whether you are shipping a motorcycle to Phoenix, Scottsdale, Tucson, Flagstaff, Mesa, or elsewhere in the Grand Canyon State, we are ready to help. For the most predictable and convenient motorcycle delivery, we recommend using our Phoenix warehouse. You won't need to wait around at your destination during a large delivery window – just stop by our warehouse at your convenience after your bike arrives to drive it out!
FAQ About Arizona Motorcycle Shipping
What is the best way to ship a motorcycle to Arizona?
The safest way to transport a motorcycle is with a dedicated motorcycle shipping company and enclosed transport. Avoid open transport, especially for long-distance transport, as your bike will be exposed to the elements. Read our complete guide to shipping a motorcycle to learn more.
How much does it cost to ship a motorcycle to AZ?
Your Arizona motorcycle shipping cost depends on factors like your origin, destination, route, and whether you are shipping to one of our warehouse locations. Our guide to motorcycle shipping costs offers an in-depth look at the cost you can expect with real motorcycle transport costs our customers have paid.
How should I prepare my motorcycle for shipping to Arizona?
Prepping your bike is easy! Make sure the tires are inflated, your alarm system is disabled, and the steering wheel is unlocked. Keep your helmet, keys, and accessories with you. If you want to know how motorcycle shipping works, download our motorcycle shipping checklist to make sure your shipment goes smoothly!
Are you ready to explore the deserts, canyons, and mountains of this motorcyclist's paradise? Shipping a bike from AZ to another state? Fill out the form for a fast, free motorcycle transport quote to get started with reliable services from Federal Motorcycle Transport!