Colorado may not offer year-round riding, but it has one of the highest rates of motorcycle ownership per capita with about 29 people for every motorcycle registered in the state! With gorgeous mountains offering high-altitude rides and stunning vistas to winding byways and national parks, Colorado boasts some of the most beautiful motorcycle rides in the west.
Planning on shipping a motorcycle to Colorado for a bucket list ride or rally? Moving to Colorado, or shipping a bike you're buying or selling? Count on Federal Motorcycle Transport for dependable Colorado motorcycle transport. Here's everything you want to know.
Reasons to Ship Your Motorcycle to Colorado
Why are you considering motorcycle transport to Colorado? There are plenty of great reasons to ship your bike to the Centennial State. One of the top reasons is motorcycle transport for a ride.
Ready to embark on one of the top Colorado motorcycle rides? One of the most iconic rides in the state is the San Juan Mountain Skyway. This scenic route through the mountains is a popular bucket list journey and often ranked as one of America's top 10 motorcycle rides. You'll cruise along the "Switzerland of America," exploring everything from red river canyons and mountain peaks to hot springs. Be sure to stop for the night in Ouray to recharge at the hot springs!
Speaking of hot springs, the Independence Pass route is another top pick for riders in Colorado. You'll pass right through Glenwood Springs, home to the largest mineral hot springs pool in the world! Another popular destination in Glenwood Springs is the Iron Mountain Hot Springs with 16 geothermal soaking pools, each unique!
View this post on Instagram
For something a bit different, riders love traveling the Trail of the Ancients. This route is great for history buffs as it takes you through archaeological sites, the Canyons of the Ancients National Monument, and Mesa Verde National Park, once home to the Anasazi with over 600 preserved cliff dwellings.
Maybe you're considering Colorado motorcycle shipping to attend one of the area's big rallies. One of the largest motorcycle rallies in Colorado is Thunder in the Rockies, a four-day Labor Day weekend event in Loveland, Colorado. Another major rally is Top O' The Rockies, celebrating its 48th year in 2021. Held in July, this fun motorcycle event takes place in Paonia, CO.
Shipping your bike for a ride or rally comes with many advantages. You can avoid wear and tear, mileage, and a potentially difficult and exhausting ride. Depending on where you're coming from, your bike, and your ambition, you can opt for round-trip transport or ride your bike one-way, only shipping it close to your destination in Colorado or having it transported back home.
Of course, these aren't the only reasons for shipping a motorcycle to Colorado. You may be moving to Colorado – most moving companies don't handle car transportation let alone specialized motorcycle transport! You may even be selling or buying a new motorcycle and need reliable transport to get your bike to its new home.
Trust Federal Motorcycle Transport to Ship Your Bike to Colorado
At Federal Motorcycle Transport, we understand exactly how much your bike means to you. Your ride isn't just a costly investment; its value is far more than monetary. It's your means of exploring the open road and disconnecting from the stress and hustle of everyday life. You probably have many great memories associated with your bike and want to create many more.
That's why it's crucial to choose a trusted motorcycle transport company to safeguard your bike every mile of its trip. Inexperienced transport companies that don't specialize in motorcycles likely won't use the right techniques or equipment necessary to avoid damage in transit.
Federal Motorcycle Transport has been a trusted Colorado motorcycle shipping company for over 30 years. We are the only company referred by Harley Davidson with benefits and discounts for H.O.G. members. From cruisers and sportbikes to vintage motorcycles and everything in between, you can rest easy knowing your bike will make it to its destination. We receive nearly 70% of our business from repeat customers and referrals!
At Federal Motorcycle Transport, we ensure your bike is protected through every mile with state-of-the-art trailers that safeguard your motorcycle from the elements. Your bike will be carefully secured to a custom pallet and loaded into covered transport with shipment tracking and customized shipping dates available.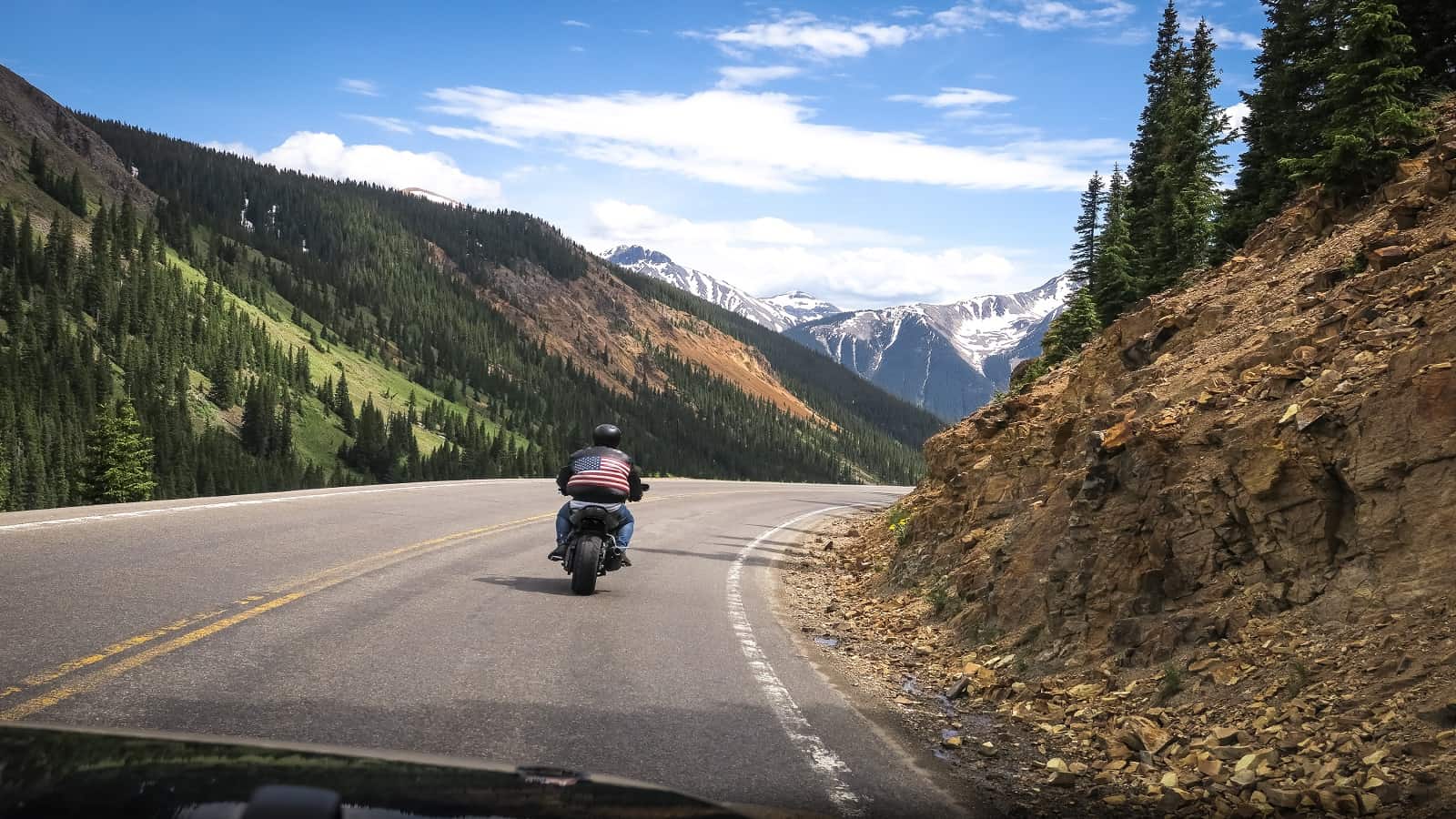 Motorcycle Brands We Ship to Colorado | CO Motorcycle Shipping Locations
Federal Motorcycle Transport ships all brands and types of motorcycles to CO. We transport Indian, Ducati, BMW, Kawasaki, Triumph, Yamaha, Suzuki, Harley-Davidson motorcycles, and more!
We can help with CO motorcycle shipping throughout the state, whether you are traveling to Denver, Aspen, Colorado Springs, Grand Junction, or elsewhere.
We recommend using one of our warehouses for an easier, more predictable experience. By shipping your bike to our warehouse, you aren't forced to wait during wide delivery windows. Instead, you can accurately plan for your bike's arrival and pick it up at your convenience.
Federal Motorcycle Transport's warehouse in Brighton, Colorado is in the Denver metro area. If you're going to fly into Denver, our Brighton warehouse is a convenient way to pick up your bike in Colorado and be ready to hit the road in no time!
FAQs About Motorcycle Shipping to Colorado
What is the best way to ship a motorcycle to Colorado?
We always recommend choosing a dedicated motorcycle transport company. The safest way to ship a motorcycle is with enclosed transport, not open transport.
How will my motorcycle be transported to Colorado?
With Federal Motorcycle Transport, your bike will be shipped secured to a custom pallet on a specialized air ride trailer. We only use enclosed or covered transport to protect your motorcycle from the elements.
How should I prepare my motorcycle for shipping to Colorado?
You can prep your bike for transport by disabling any alarm system, ensuring the tires are inflated, and unlocking the steering wheel. Be sure to remove any accessories and keep your keys and helmet!
How much does it cost to ship a motorcycle to CO?
Your motorcycle shipping cost will depend on your origin, destination, transport route, and whether you will use a warehouse. Learn about our motorcycle shipping costs here with real transport costs paid by our customers.
Ready to hit the open road in beautiful Colorado? Give us a call or request a free quick quote online to get started with a personalized Colorado motorcycle transport quote!