If you own a motorcycle, it is basically a right of passage to do a cross country motorcycle trip at some point. There is nothing like the wind running across your body as you venture out onto the open road. All you need is your motorcycle, the right gear, and a road trip plan to make it a trip worth remembering.
In the United States, there are a huge number of routes you can take for your motorcycle trip cross country. You can explore the deserts of the Southwest or bar hop your way along the East Coast's most populous cities. Whether you want to camp on the beach in California each night or discover America's greatest national parks, there are plenty of places you can visit.
Some of the world's most amazing landscapes are only a few hours or days away from your home. With a bit of planning, you can prepare for the motorcycle road trip of your dreams.
Planning Your Cross Country Motorcycle Trip
If you want to go on the best cross country motorcycle trip, you'll need to be prepared and make a detailed action plan. Along with picking out cross country motorcycle routes, you also need to get your bike ready for the road. As the old saying goes, an ounce of prevention is worth a pound of cure.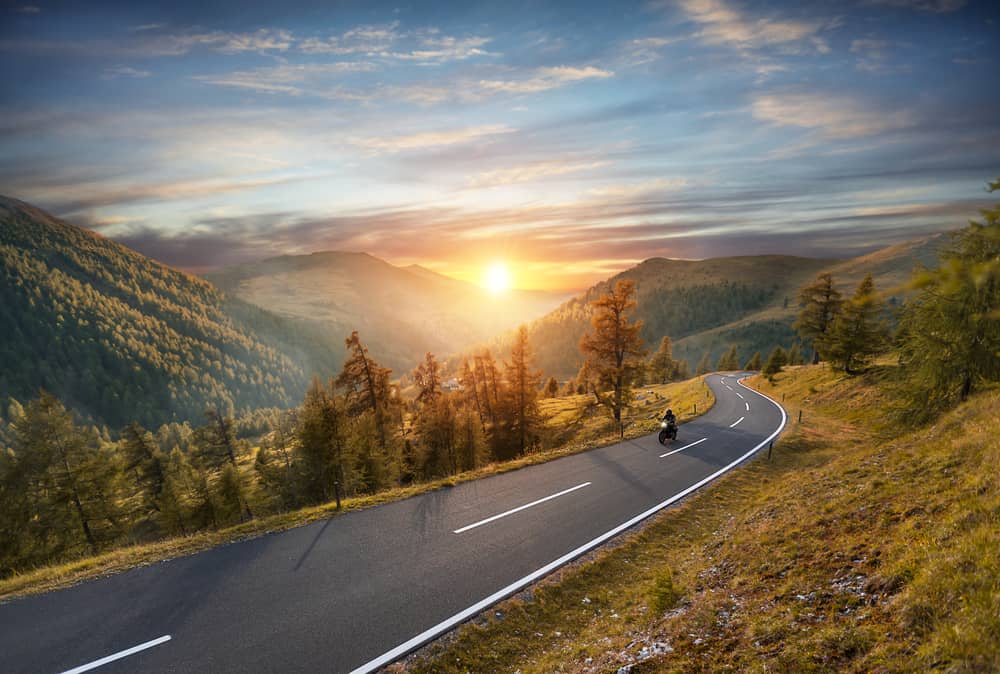 Before you go, check your tires to see how much tread they have left and get an oil change. You should also pack your own maintenance tools like a tire-repair kit. Unless you are a talented mechanic, you should bring your bike to a shop to be thoroughly serviced before you leave on any trip covering a larger distance.
Because even the best preventive measures won't stop every disaster from happening, you should also get insurance with roadside assistance or invest in AAA. Make sure you also have a reliable phone service provider to ensure you can reach out to someone for help in case of an emergency.
Depending on how long your motorcycle cross country journey is, you may want to get a luggage rack added to your bike so you can bring along some extra necessities. Most luggage racks can be purchased for around $100. Then, you can easily and conveniently store extra gear and equipment.
There is bound to be some bad weather at some point along the road, so you should be prepared for anything. You should have a weatherproof riding suit before you go cross country by motorcycle. While you may never have to wear it, you will be glad you packed it if the weather turns bad.
Along with weatherproof options, you also need to pack boots, clothes, a first aid kit, cash, and a tire patch kit. While leather motorcycle suits are popular because of their durability, comfort, and strength, you can pack whatever suit you feel most comfortable in.
Since you are going on an adventure, you should also invest in a GPS navigation system. If you use a smartphone, it most likely already has GPS navigation options available. 
Along with packing the right gear for your cross country motorcycle trip, you can also protect yourself through additional safety measures. Riding with a friend gives you support if something goes wrong as well as companionship. If you are riding alone, calling home regularly and giving someone a copy of your route are both great ways to stay safe.
Top Motorcycles for Cross Country Trips
When it comes to a cross country motorcycle trip, which bikes are the best? Should you get a Harley Davidson or a Honda? Much of your decision will depend on the type of motorcycle you want.
Some people prefer Harley Davidson because of its classic appeal and reputation for a smooth ride. The Harley Davidson Electra is an excellent choice as a touring bike because of its mellow ride, GPS, and reliability.
If you want an impressive bike, the BMW R1200GS is bound to please. This bike is fast, agile, and known as one of the best cross country motorcycles ever. It offers smooth handling, heated seats, and protection from wind and weather.
For a sporty option, check out the Suzuki V-Strom 1050 ABS. This bike has 1,037 CC and two-stage traction controls. While it has low ground clearance, you'll sit high in the saddle because of the upright seating position.
With the Kawasaki Vulcan 1700 Voyager ABS, you can enjoy having a superbike for long journeys. You'll love the comfortable cross country motorcycle ride thanks to the bike's cruise control, intercom/headset system, and integrated saddlebags.
A Ducati Multistrada 1260 S Grand Tour is perfect if you want a modern take on a classic bike. It boasts 1,262 CC, a small size, and versatile gadgets. Recognized as the Swiss-army knife of touring bikes, this motorcycle is great for commuting and long touring trips.
Another great option if you are traveling cross country by motorcycle is the Yamaha FJR1300. This bike has 1,298 CC and cruise control. It is popular for touring thanks to its heated seats, comfortable ride, and luggage mounts.
You could also go with up-and-coming motorcycle brands that are developing great bikes at affordable prices. These include companies such as Janus Motorcycles, Royal Enfield, and others.
5 Best Cross Country Motorcycle Routes
If you are planning a cross country motorcycle trip, there are a number of routes you can take. You will want to base your choice according to where you are currently located as well as how long you want your trip to be. If you are uncertain about which cross country motorcycle routes are best for you, you can always mix several different routes together to make your dream journey.
1. Pacific Coast Highway
The Pacific Coast Highway is a popular choice for a motorcycle trip cross country. You begin at the northwest point of the Olympic National Park in Washington state. Then, you follow the Pacific Coast Highway for 1,650 miles until you reach San Diego, which is also well known for its many great motorcycle rides.
This journey follows a two-lane road. Throughout the journey, you can enjoy seeing temperate deserts, the Three Capes Loop, the Olympic National Park, and Redwood National Park. Cities you'll pass through include Seattle, Portland, Sacramento, and Los Angeles.
2. The Great River Road
This is one of the best cross country motorcycle routes within the interior of the United States. It follows the GRR from the Mississippi River's headwaters in Minnesota to the ocean in Louisiana. Throughout the journey, you can check out sites like St. Louis, Main Street USA, New Orleans, and the Natchez Trace Parkway.
You can stop and see the Mall of America in Minneapolis, the Gateway Arch in St. Louis, Graceland in Memphis, and Bourbon Street in New Orleans.
3. The Atlantic Coast
This is arguably the best cross country motorcycle ride on the East Coast. You begin in New York and drive 2,000 miles south to Key West. Most of these miles are within earshot or visual sight of the Atlantic Ocean, making it a beautiful and scenic trip.
As you drive along the Overseas Highway, you can enjoy seeing sites like the Statue of Liberty and the Assateague Island National Seashore. Along with checking out Key West, you can also stop at Cocoa Beach and Savannah.
4. The Border to Border Road Trip
With this road trip, you can drive from Jasper National Park in Canada to the Sonoran Desert in Arizona. If you love rugged landscapes, this is the cross country motorcycle trip for you. You will see glaciated valleys, tumultuous rivers, deserts, and majestic mountains.
Plus, you can stop to check out the Columbia Icefield in Alberta, Canada. Along the way, make time to explore the Joshua Forest Parkway, Nevada's Extraterrestrial Highway, and Montana's Bitterroot Mountains.
5. The Historic Route 66 Road Trip
This iconic motorcycle journey goes from Chicago to Los Angeles. By driving historic Route 66, you can check out many styles and cultures of America. Some of the most popular destinations along this route are Tucumcan, Santa Monica, the Painted Desert, the Meramec Caverns, and Chicago.
Riders will enjoy everything from classic diners and bars to scenic rides through everything from deserts to national forests.
Plan Your Cross Country Trip
Are you ready to go on your cross country motorcycle trip? With a little planning, you can head off on any of these journeys and enjoy the ride. Once you have completed your first cross country trip, you can always try out a new route on your next vacation.
Need help transporting your motorcycle? Whether you're planning to take it on a cross country motorcycle trip or are moving to a new area, Federal Motorcycle Transport can help! Give us a call today at (309) 550-7543 to get a free estimate!