When properly maintained, motorcycles have the capacity to last for many years of enjoyment. But even the best motorcycles eventually break down and have to be taken to a salvage yard. Whether you are looking for parts or need to lay your motorcycle to rest, there are plenty of convenient Florida motorcycle salvage yards you can use.
The right location depends on where you live and the kinds of services you are interested in.
By going to a salvage yard, you can save money on the cost of new parts. Sometimes, specialty parts are difficult to find online or in a store. At a salvage yard, you can discover some of these hard-to-find pieces of the puzzle to fix your motorcycle.
A salvage yard can also help you get rid of your old motorcycle. If you have an old, broken bike rusting away at home, you can get rid of it at your local salvage yard in Florida.
Are you looking for motorcycle salvage yards in Florida? Eagle Motorcycle Salvage is located within the city of St. Petersburg. If you are in the surrounding area, this is the best place to go to buy spare parts or to salvage your old motorcycle.
Eagle Motorcycle Salvage can buy your old scooter, motorcycle, or go-kart for cash. Known as a one-stop-shop in the area, they offer repair services, spare parts, and other options. Whether you need to fix an old bike or get cash quickly, this salvage store can help you out.
At Used Moto Part, you can find a range of different parts and motorcycles. This company parts out salvage, insurance, COD, clean and certificate of destruction ATVs, jet skis, and motorcycles. Because of this, they have more than 4,000 different parts in stock.
Known as one of the top Florida motorcycle salvage yards, this shop offers brands like Kawasaki, Honda, Buell, Hyosung, Suzuki, Ducati, Yamaha, BMW, and Triumph. Because of this, you can get a fast turnaround time for all of your repair work and servicing needs.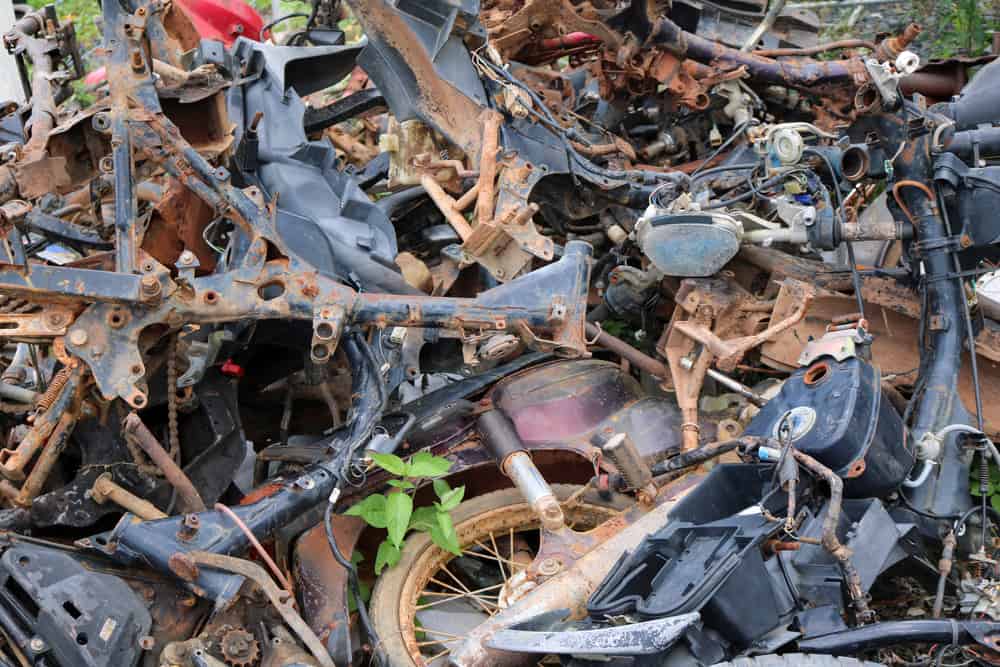 If you want a more convenient option, Used Moto Part offers an online storefront on eBay. Once you purchase an item, it is shipped through UPS or the United States Post Service (USPS).
Along with buying parts or scheduling a repair, Used Moto Part also makes it easy to sell your junk bikes. They will pick the bike up for free and give you an estimate. Then, they will pay you cash for your old bikes.
Based in Melbourne, Florida, Boneyard originally began working with Harley Davidsons back in 1974. Since then, the company has developed a reputation for selling new and used motorcycle parts. In addition, Boneyard Cycles builds and repairs vintage motorcycles.
Today, the shop is located within Palm Bay. While they are one of the best motorcycle salvage yards in Florida for vintage bikes, they can also help you with Harley Davidsons from any year. In addition, you can check out a wide range of used and new parts from all models and years of American V Twins.
Boneyard Cycles can help you find hard-to-locate parts, but they keep many of the most popular parts in stock. If you need help with a unique project, you can always stop by their shop or give them a call.
If you want to buy or sell parts, this is one of the popular Florida motorcycle salvage yards to go to. Sportbike Parts & Expo has new and used parts. You can find wheels, tires, exhaust pipes, and more. The shop can help you with installations, motorcycle repairs, oil changes, and motorcycle sales.
At this shop, you can find brands like Yamaha, Polaris, Ski-Doo, Sea-Doo, Arctic Cat, Honda, Suzuki, Harley Davidson, and Kawasaki. This family-run business focuses on helping bikers get the best possible services, products, and parts. You can enjoy having top-of-the-line customer services and speedy shipping.
View this post on Instagram
Over the years, Sportbike Parts & Expo has implemented an online shopping experience. Because of this, you can use the company's web portal for an interactive, high-tech shopping process.
Are you running short on cash? Luckily, Sportbike Parts & Expo can help you get the parts you need with their unique financing program. If you need to sell a junk bike or need pricing information on a part, you can also call the company for a personal quote.
Cycle Parts Plus is located in Lakeland, Florida. Among the most dependable motorcycle salvage yards in Florida, this location can help you repair your motorcycle. Along with repair services, Cycle Parts Plus offers new and old parts.
They specialize in helping people bring old bikes back to life. If you would rather let your junk bikes rest in peace, you can also sell them to the salvage yard and get cash for your old parts.
Sun Coast Cycle Sports has served the local community for more than 20 years. Today, the shop is known for offering high-quality new and used parts. The shop enjoys a stream of returning customers because of its top-quality products and competitive prices.
Unlike some Florida motorcycle salvage yards, Sun Coast Cycle Sports is family owned and family operated. Originally, the company began in the family's garage with a single motorcycle. Before long, the company grew so much it had to get a small warehouse.
View this post on Instagram
Since its early years, Sun Coast Cycle Sports has continued to grow and require larger warehouses. Now, the company has a wide variety of motorcycle, side-by-sides, off-road vehicles, automobile, and four-wheeler parts. If you want to sell your bike or locate an unusual part, the company has a 24/7 online help center you can use to ask questions or get support.
Customers throughout Florida come to Sun Coast Cycle Sports because of its legendary customer service and fast turnaround times. The company is open Monday to Friday from 8 am to 3 pm, so customers have plenty of time available for visiting the store.
If you want a more convenient option, you can also make your purchase online. The company has an online storefront for more than 100,000 different parts. All of these parts are available with free domestic shipping as long as you live in the United States. If you happen to need one of the rare parts they don't have in stock, you can always call Sun Coast Cycle Sports for help or check their website again in the future.
Map of Salvage Yards in Florida
Discover Florida's Best Salvage Yards
If you are searching for the best Florida motorcycle salvage yards, this list is a great place to start. Whether you need small parts or large items, each of these locations will be able to help you get your bike back on the road.
Here at Federal Motorcycle Transport, we can help you transport motorcycles to and from salvage yards or other destinations. To find out more about our transport services, give us a call today at (309) 550-7543!