There's nothing better than taking a joy ride on a windy road. So, your motorcycle is surely one of your most prized possessions. So when you're organizing a move to a new location, you want to make sure it's transported safely and effectively. Improperly moving a motorcycle can lead to knicks, scratches, or more serious and costly damage. Your motorcycle isn't like transporting a car. You can't just attach it to the back of a truck or talk to a tow truck. Instead, you'll have to be sure that it is secure during transport in a crate.
So, how can you avoid damaging your motorcycle during your move? What not to do is probably the most important thing you can keep in mind when transporting your bike. Many people make the mistake of strapping a bike onto a trailer. While it might seem okay at first, a long road trip can cause serious damage to a motorbike on a trailer. Because of this, strapping bikes onto trailers is not recommended, as it's not the most effective way to ensure that your motorcycle isn't damaged.
What can you do instead? A great option is creating your own custom motorcycle crate to keep your motorcycle protected while traveling long distances. It takes effort, and it's not recommended to do it yourself if you're not known to be handy. However, when done right, making your own motorcycle crate is an affordable way to keep your bike protected during a relocation. The crate becomes the motorcycle shipping container for safety and protection of your prized bike.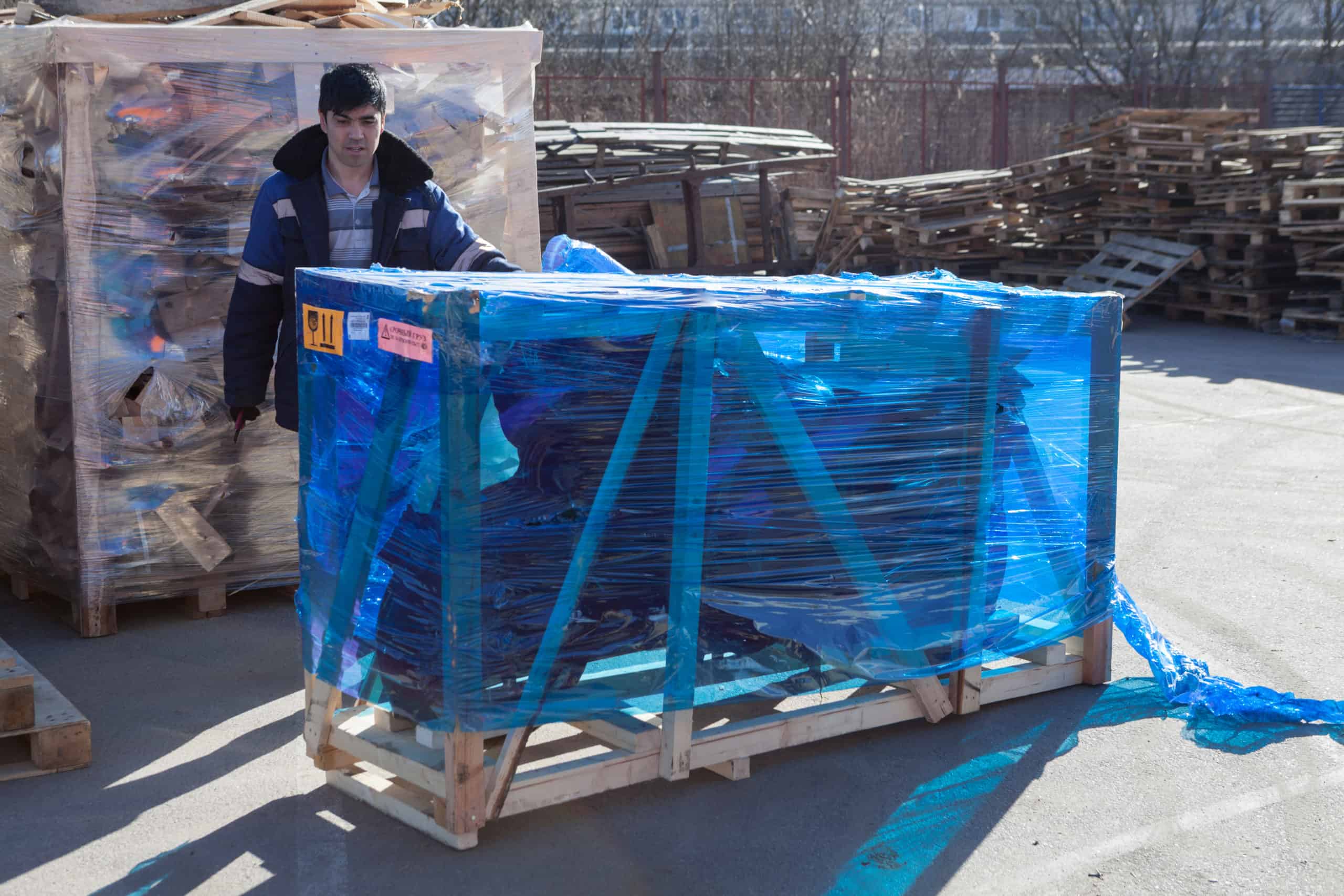 What are the Benefits of Using a Motorcycle Crate for Shipping?
A high quality motorcycle crate is a great way to ensure your motorcycle is well protected when shipping it, even if you're not going far. Making a crate requires basic materials, so it will save you a lot of money. However, rented or purchased crates won't necessarily mean the crate is the perfect fit for your motorcycle. That's why it's important to make your own, to the dimensions of your bike, to ensure the proper size. Some benefits of a motorcycle crate are:
Secures your bike so it doesn't move around
Ensures weather and other things won't reach your bike
Makes it easy to transport
Protects it from bumps in the road and rougher travel conditions
What To Know Before Making Your Motorcycle Crate
There are a few steps you should take before crating your motorcycle. First, it's important to discuss your crating ideas with the company who will be shipping your motorcycle. Some shipping companies have different requirements than others. If you spend all that time building a motorcycle shipping crate without talking to the company first, you could be doing all of it for naught. Here are some questions to ask the shipping company before you make your crate:
Do they require all fuel be drained from the motorcycle before shipping?
Are you required to disconnect the battery before shipping?
Do they require handlebars and mirrors be removed?
What insurance options are available?
If shipping internationally, what types of wood are permitted?
Once the shipping company has answered the above questions, there are still a few things to do before putting your bike in the crate:
Thoroughly wash your motorcycle, especially if shipping internationally.
Photograph and inspect your bike and note any knicks or scratches, so you can compare it all upon delivery.
Check the motorcycle's tire pressure and battery.
Ensure you have no more than a quarter tank of fuel left in your motorcycle before you crate it.
Disconnect the motorcycle's alarm(s).
Ensure there are no loose accessories in the crate that could bounce around and create damage during the move.
What Materials are Used to Crate a Motorcycle?
Creating your own motorcycle crate involves fairly basic materials. However, before purchasing your supplies, the most important thing to do is measure your motorcycle's length, width, height, and weight. Keep your measurements handy at all times for reference. You will need an oversized wood pallet that can accommodate your motorcycle's dimensions and weight when it is lifted by a forklift.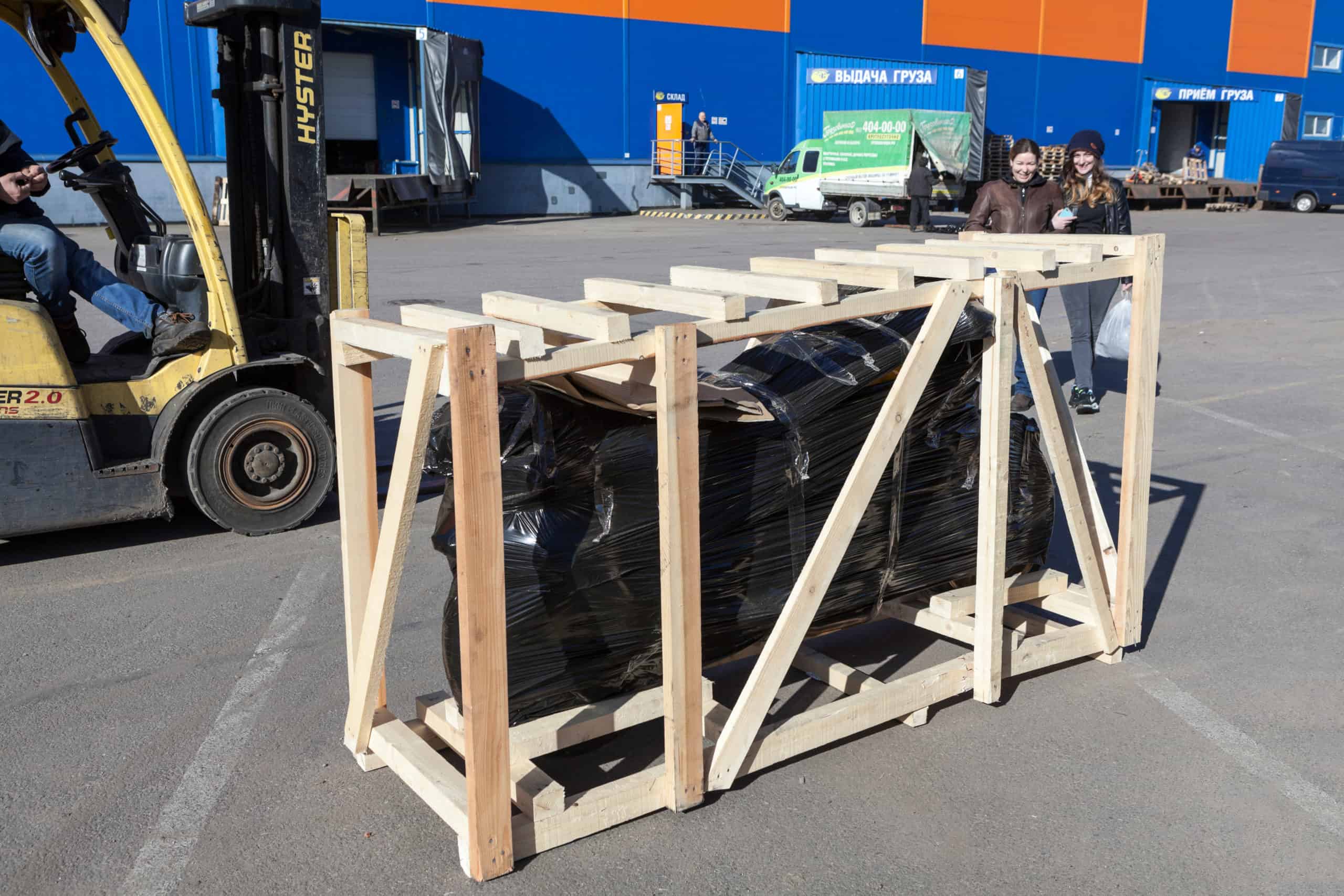 Oversized wood pallet
4 pieces of ¼" or ½" plywood cut to the size of the pallet
2 pieces of ¼" or ½" plywood cut to the width of the pallet
4 2x4s cut to the width of the pallet
2 2x4s cut to the length of the pallet
Wood screws
Hammer and nails
Wingnuts
Carriage bolts
Table saw (if you are cutting the wood yourself)
Fastening belts
How Do You Build the Crate?
When making your own motorcycle crate, safety is of the utmost importance. Keep in mind that the crate will be your motorcycle shipping container. Be sure you are wearing safety goggles and protective equipment while constructing your crate, and that your workspace is well lit and ventilated.
Step 1
For starters, lay the oversized pallet on the ground. Place the plywood overtop the pallet, leaving as little overhang as possible and fasten it to the pallet using screws.
Step 2
Position your motorcycle on the plywood standing up.
Step 3
Place shorter 2x4s at each corner of the plywood, vertically, and secure with screws.
Step 4
Attach plywood to the 2x4s to create the sides of the crate; use a drilled screw every three feet, and wingnuts and carriage bolts to secure to the 2x4s at the corner. You should now have what looks like a cube.
Step 5
Then, you'll need to be sure the motorcycle is not moving around. Secure the motorcycle to the sides and bottom of the crate with fastening belts to restrict the motorcycle from moving while in transit. Be sure to fasten the belts tightly as this is what will keep your bike in place.
Step 6
Fasten the longer 2x4s along the top of the crate to create a frame.
Step 7
Use the last piece of plywood to create the top of the crate; secure with screws.
Step 8
Clearly label the motorcycle shipping crate crate with directional arrows and/or "FRAGILE" in large letters.
What Will Be The Total Cost?
Making your own motorcycle crate is definitely on the money-saving end of the spectrum when it comes to transporting your bike. Purchasing a crate can cost anywhere from $300-$900 depending on the materials it's made from. Renting a crate can cost around $400. If you choose to make your own motorcycle crate out of wood, you'll likely spend between $200-$250. However, it's going to take a long time, and it may be harder than you think once you get started. So, you should also work the amount of time you'll spend making your crate into the equation when deciding whether or not the DIY route is right for you.
Who to Call for Help?
Not convinced making your own crate for your motorcycle is the best option for you? If this sounds like a too difficult or time-consuming process, you can hire a company to do it for you. Federal Motorcycle Transport are the best professional motorcycle shippers in the US. We transport over 5,000 motorcycles a year – so you know you're in good hands. At Federal Motorcycle Transport, our highly trained movers know exactly how to transport your motorcycle quickly, safely, and without damage using a crate. We can pick up and deliver your bike anywhere in the continental US, and we have a long list of services to offer.
Is Shipping A Motorcycle Expensive?
You don't have to break the bank by working with professional motorcycle movers! At Federal Motorcycle Transport, we've perfected our specialized techniques so well that we know how to cut costs without cutting corners. We also offer discounts to eBay customers, members of the American Motorcyclist Association (AMA), and members of the Harley Owners Group (HOG).
Whether you're heading out on vacation or relocating permanently, don't trust just anyone to relocate your bike. Federal Motorcycle Transport is the most trusted company to handle your motorcycle shipping needs. Call us today at 309-550-7543 for a free consultation!