With a great combination of shorelines, charming New England towns, and scenic highways, Massachusetts is the ideal state for riding a motorcycle. There are so many scenic roads where you can get lost on a fall afternoon and enjoy the changing foliage. Whether you're exploring the North Shore or traversing the Mohawk Trail, there is always something new to discover in Massachusetts. So with so many great places for riding, it's no wonder Massachusetts has one registered motorcycle for every 47.5 people. 
Are you thinking of exploring the Massachusetts wilderness on your Harley but coming from another place? Or perhaps you live in Massachusetts and want to explore a different part of the country. Regardless of where you're heading, Federal Motorcycle Transport is happy to assist with dependable motorcycle transport in Massachusetts.
Reasons to Ship a Motorcycle in Massachusetts | Shipping a Motorcycle to/from MA
Our clients require motorcycle shipping in Massachusetts for many different reasons. You might be visiting Massachusetts to take advantage of some of the prime riding areas and need your bike shipped from your current home. We are happy to assist if you're planning a motorcycle trip and need reliable transportation to get to the heart of New England.
View this post on Instagram
You'll find many exciting places to ride in Massachusetts, whether you're looking to explore the shoreline or the countryside. The Shelburne Falls Loop is a popular destination that winds through the towns of Amherst, Pelham, and Shelburne Falls and offers 132 miles of breathtaking scenery with spectacular views of the Quabbin Reservoir. Another popular destination for riding is Concord to Gloucester trail along the North Shore. Along that route, you will see all kinds of historical landmarks and monuments, from Minute Man National Park, where the "shot heard round the world" was fired, to the site of the Salem Witch trials. Bay State Bike Week also takes place in May and features events for all types of two wheeled vehicles, including Motorcycles.
Another reason you may require Massachusetts motorcycle transportation is that you live in the commonwealth, but you plan on taking a cross-country motorcycle trip and need reliable transportation. We make shipping a motorcycle in Massachusetts effortless and efficient. Or you may be buying a used motorcycle and need it transported to your doorstep. You may need assistance moving with a motorcycle if you plan on relocating to or from Massachusetts . We make moving with a motorcycle easy and transparent, so you can focus on other priorities.
You might even be ready to sell your motorcycle and need to ship it to a new buyer. We provide secure Massachusetts motorcycle shipping to ensure your bike arrives in pristine condition. So whenever you're thinking of shipping a motorcycle in Massachusetts, trust Federal Motorcycle Transport to make the journey simple and stress-free.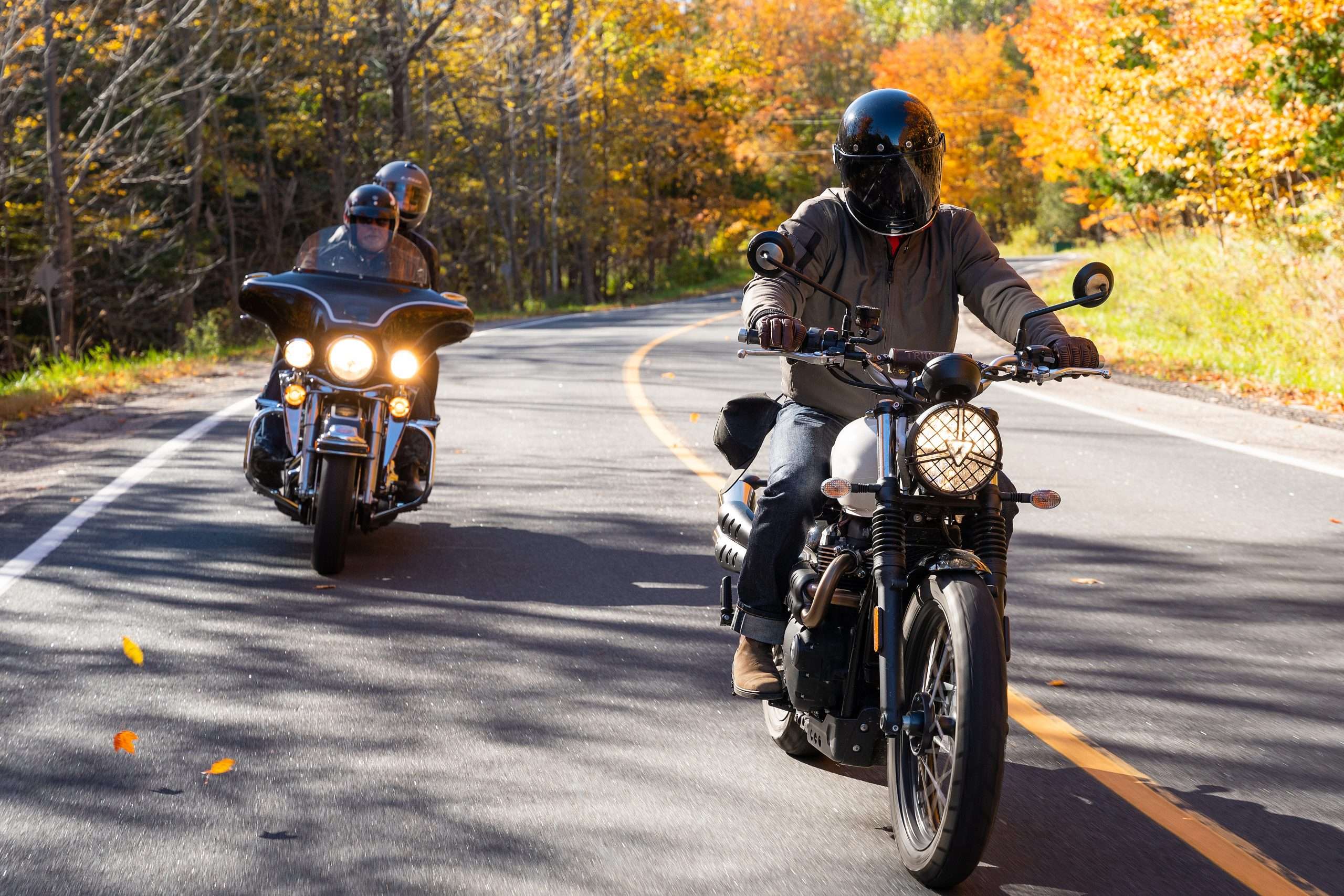 Dependable Massachusetts Motorcycle Shipping Services with Federal Motorcycle Transport
You must be careful about who you trust with your Massachusetts motorcycle shipping. Transporting a motorcycle is a delicate and complex task that requires training, experience, and professional tools. Even a professional moving company may not have the specialized expertise necessary to handle motorcycle shipping. So it's recommended to trust a company like Federal Motorcycle Transport, which specializes in Massachusetts motorcycle transport.
We have over 30 years of experience in the business, and we ship over 5,000 motorcycles per year to Massachusetts and other parts of the country. We are a division of Federal Companies, a trusted staple in the moving industry that has been in business for over 100 years. Leading groups such as HOG and MMA trust Federal Motorcycle Transport because we have all the knowledge and equipment needed to transport your motorcycle to your final destination safely. We are also accredited with the Better Business Bureau and have over 300 positive reviews on Google, vouching for our professionalism and experience. When you need dependable Massachusetts motorcycle shipping from a trusted name in the industry, look no further than Federal Motorcycle Transport.
Motorcycle Brands We Ship to/from Massachusetts | MA Motorcycle Shipping Locations
We can assist with the transportation of a wide variety of different types of motorcycles. From choppers to cruisers to dual sport vehicles to pit bikes, we can help you transport any type of motorcycle and ensure it arrives at the final destination safely without any issues or delays.
View this post on Instagram
Common brands that we ship include:
Suzuki
Yamaha
Triumph
Ducati
Indian
Wherever you need us to ship your motorcycle, we will ensure it arrives in perfect condition within the requested time frame. We can ship your bike to a residence or a local business, such as a motorcycle shop with tractor-trailer accessibility or other necessary features. For greater convenience, you are also welcome to ship the vehicle to one of our warehouse locations and pick it up when you're ready. Rather than waiting around all day to anticipate the arrival of the shipment, you can have it sent directly to one of our warehouse locations and pick it up at your earlier convenience.
The closest warehouse locations to Massachusetts include:
Lowell, Massachusetts – 28.7 miles from Boston, MA
New Britain, Connecticut – 110 miles from Boston, MA
Monroe Township, New Jersey – 258 miles from Boston, MA
Telford, Pennsylvania – 306 miles from Boston, MA
Massachusetts Motorcycle Transport FAQs
How much does it cost to ship a motorcycle from Massachusetts?
On average, the cost of shipping a motorcycle is about $959 (or $0.40 per mile) in Massachusetts. However, the exact cost can change depending on the parameters of your journey. Are you planning on shipping it to New England or to a different part of the country? Are you shipping it to your home or storing it in a warehouse? Are you located in a rural area or within a city? All of these factors will impact the cost of your Massachusetts motorcycle shipping. Reach out for a quote if you need an estimate.
How should I prepare my bike for shipping?
First, you should put the bike in neutral with forks and handlebars unlocked. Empty the gas tank and ensure there is 1/4 of a tank or less before shipping. Clean your bike and empty your saddlebags – if riding gear is inside, it will be shipped at your own risk. Also, remove any GPS units, electronic trolling passes, and weapons because transit coverage will not insure them. Learn more tips and tricks by reading our motorcycle shipping checklist.
What is the best way to ship a motorcycle in Massachusetts?
We recommend enclosed transport, which means the bike is secured to a pallet and shipped in a closed trailer. You can also choose open transport, which is often more affordable but means that your vehicle will be exposed to the elements in transit. The best way to ensure your bike travels safely to the destination is to choose a reliable Massachusetts motorcycle transit company to get the job done right. You can reference our guide to shipping a motorcycle for more information.
Ready to embark on your next adventure? Trust Federal Motorcycle Transport with all your Massachusetts motorcycle shipping needs. Call 309-550-7543 today for a personalized moving estimate.