With its incredible landscapes, beautiful state parks, and famous roads, Montana is one of the best states to explore on the back of a motorcycle. The best Montana motorcycle rides take you through some of the state's most breathtaking landmarks such as Beartooth Pass and Yellowstone. Because of these incredible attractions, it is no surprise that Montana has one registered motorcycle for every 16 people. This equates to more bikes per capita than any other state!
Are you thinking about shipping a motorcycle to Montana to enjoy one of the state's famous rides? Perhaps you are in need of a trustworthy Montana motorcycle transport company to assist you during a move. Or maybe you are simply shipping a motorcycle from Montana to another state. No matter what your Montana motorcycle shipping needs are, Federal Transport is here to help. Our reliable Montana motorcycle transport company can get your bike safely to its new location.
Reasons to Ship a Motorcycle to Montana | Shipping a Motorcycle To/From MT
There are many reasons why you may need to ship your motorcycle to or from Montana. Here are just a few of the most common reasons why people contact Montana motorcycle shipping companies.
If you are thinking about moving to or from Montana, then you may want to contact a motorcycle transport company to get your bike to your new home. This way, you can focus on packing up your belongings and transporting them to your new location without worrying about moving with a motorcycle.
Many people ship their motorcycles out of state for a trip or event. Winter in Montana often brings snowy and icy conditions that can be difficult or unsafe for motorcycle riders. Keep yourself and your bike safe by letting a Montana motorcycle shipping service transport your bike to a warmer destination. You can meet your bike after flying or driving and then allow us to transport it back home afterward.
If you want to plan a motorcycle trip but don't want to make a long round trip, then you can simply ride as far as you want and then ship your bike home afterward. This is perfect for cross country motorcycle trips that may be too long to complete otherwise.
Shipping a motorcycle in Montana is perfect for those who want to travel to some of the state's most famous events and rallies. Each year, Montana hosts the world-famous Beartooth Rally. This is Montana's largest motorcycle rally and iron horse rodeo. People travel from all over the country to camp out for this event.
View this post on Instagram
Montana is also home to the POW/MIA Ride to Remember. This ride is held on the 3rd Saturday in August and goes from Helena, Montana to West Yellowstone, Montana along Highway 287. It is dedicated to the memory of the 82,000 POW/MIA personnel with a focus on the 53 personnel missing from Montana.
In addition to these popular events, you can't miss some of the most incredible motorcycle rides, such as Lolo Pass, Lewis and Clark Highway, and Hyalite Canyon. Yellowstone National Park is also one of the most famous areas for motorcycle riders to explore. This beautiful park offers hundreds of miles of trails for you to explore on the back of your bike.
Another popular reason for using a Montana motorcycle shipping company is if you are purchasing a used motorcycle from a seller in another state. We can get your bike shipped to you as quickly as possible. We can also get your bike to a buyer if you are selling your motorcycle to somebody out of state.
Dependable Montana Motorcycle Shipping Services With Federal Motorcycle Transport
For over 30 years, Federal Motorcycle Transport has been the best motorcycle transport company in the United States. We provide a low claim rate, personalizable services, and incredible customer support. We have transported over 5,000 motorcycles to Montana as well as the rest of the country. We are dedicated to making our customers happy, so it is no surprise that nearly 70% of our business comes from referrals and repeat customers. We are the exclusive motorcycle transport company of many top motorcycle groups such as AMA and HOG.
Shipping a motorcycle takes extreme care and expertise. Motorcycles can easily shift during transport and therefore need to be properly secured to avoid tipping or scratching. Our team has all of the proper equipment and knowledge to get your bike to its new destination. We will ensure that your motorcycle is properly loaded, secured, and delivered. You can even track your bike every step of the way.
Motorcycle Brands We Ship To/From Montana | MT Motorcycle Shipping Locations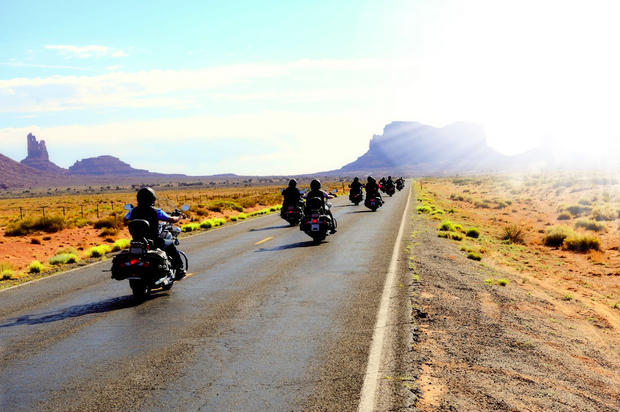 Federal Motorcycle Transport is an experienced and trustworthy Montana motorcycle shipping company. Our decades of experience and positive reviews only speak to our professionalism and dedication to providing our customers with the best experience possible. We will ship everything from sport bikes, to touring bikes, to dirt bikes, to antique and vintage bikes. 
Some of the brands we have experience shipping include:
Ducati
Indian
Suzuki
Triumph
Yamaha
Federal Motorcycle Transport can ship your bike to any residence or business. If you can't be available during the designated delivery window, then you can ship your bike directly to one of our warehouse locations. When you use one of our warehouses, you can stop by and pick up your motorcycle whenever you want.
Our closest warehouse locations to Montana include:
Billings, MT, 141 miles from Bozeman, MT
Boise, ID, 388 miles from Yellowstone National Park
Tacoma, WA, 489 miles from Missoula, MT
MT Motorcycle Transport FAQs
How much does it cost to ship a motorcycle from Montana?
The cost of shipping a motorcycle from Montana depends on many factors, such as the route you travel, your origin and destination, and whether or not you are using our warehouses. Check out our guide to the cost of motorcycle shipping for more information on the subject. We break down the costs and even show you the actual transport costs our customers have paid.
How should I prepare my bike for shipping?
Before shipping your motorcycle, you will want to make sure it is prepared for the journey ahead. Make sure the alarm system is disabled, the gas tank is no more than 25% full, your tires are not flat, and the steering wheel is unlocked. You will also want to ensure that you keep your accessories, keys, and helmet with you. Here are a few more motorcycle shipping tips.
What is the best way to ship a motorcycle in Montana?
The best way to ship a motorcycle is with enclosed transport through a trusted Montana motorcycle transport company. Open transport is more affordable, but it leaves your bike exposed and at risk for damage from the outdoor elements.
No matter why you are in need of Montana motorcycle shipping, then Federal Motorcycle Transport is here to help! Whether you want to enjoy one of the famous rides or rallies or you are traveling away from the state for a trip or a move, we can assist you. Give us a call today or fill out our online form for a free quote.