You are preparing for an upcoming move and the weight of everything on your to-do list is quickly getting overwhelming. Among the many items on your agenda is finding out how to get your motorcycle from your current home to its new location.
If you've ever done it before, you know that moving with a motorcycle is not an easy task to accomplish on your own. There are many unknowns and potential risks it's important to be aware of throughout each step. Whether you are moving a motorcycle across the country or to a neighboring city, there are a few factors that you'll need to consider ahead of time.
From deciding how to transport your motorcycle to avoiding damage along the way, read through all the tips to protect your investment and get it to your new home in the same condition.
Moving With A Motorcycle
People decide to move for a wide variety of reasons ranging from new jobs or new relationships to home upgrades or downsizing after the kids move out. Regardless of the motivation behind a transition, these adjustments can often be a long and stressful process.
And the thought of moving a motorcycle from one city or state to another at the same time quickly adds to the pressure.
Relocating to a new area is difficult enough without the added hassle of having to move your motorcycle as well. Many have no idea what the best technique is to ensure their bike makes it to the next destination safely.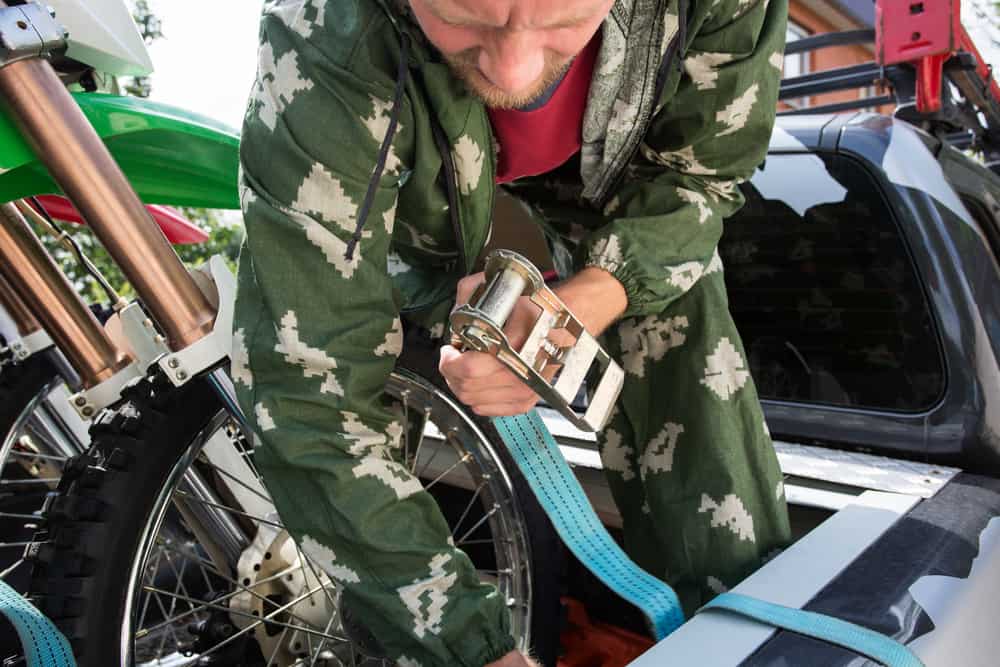 There are many options when it comes to relocating your motorcycle from its current location to your new home. Some allow you to do it yourself, while others bring in the help of others to ease the process.
What are the most common ways to move a motorcycle?
Drive it to the new location

Load it into the bed of a pickup truck

Secure it in a flatbed trailer

Use a rented do-it-yourself moving truck

Ship it with an open carrier
Moving a Motorcycle with Household Goods
While you could try relocating a motorcycle in a rented moving truck on your own, this could be disastrous if it is not secured properly. Motorbikes are heavy and highly difficult to load onto the lifted cargo space of a box truck. It could easily fall off the loading ramp, leading to scratches and dents or even personal injury.
Other people may try loading their motorcycles into portable on demand storage containers that are dropped off at their home until they're ready to be picked up at a later date. While these containers are placed on the ground and remove the dangerous ramp aspect, they have their own risks you need to worry about when the company returns to pick it up for you.
Your motorcycle could shift, slide, or even tip over during transport, causing costly damage that could make the move that much more expensive. On top of that, your other household goods that were loaded into the moving truck or portable on demand storage have the chance of falling onto the bike causing additional issues.
And when you're moving a motorcycle across the country, you may not even know these problems have taken place until days later when you arrive at your new property.
Thoughts like these make it easy to understand why it is a good idea to get some professional assistance when moving with a motorcycle.
Trusting Professionals to Move Your Motorcycle
At first, you may feel comfortable inviting a couple of your friends over to help you load your motorbike into the back of a pickup or moving truck. But the moment it tips over, gets a scratch in the paint, or falls onto one of your friends, you may find yourself instantly regretting that you chose not to hire an experienced team to handle the job.
Will Movers Move My Motorcycle?
While some moving companies may claim they are able to transport a motorcycle, they most likely don't have the expertise you would want when it comes to handling such an expensive piece of machinery.
If they aren't experienced or properly trained in the best practices for moving with a motorcycle, your vehicle could end up getting scratched or badly damaged during the transition. Instead, it's important to trust a professional motorcycle shipping company that specializes in this process.
How Does Motorcycle Shipping Work?
There are a few simple steps to make the shipping process simple when moving with a motorcycle.
Get a quote from an affordable motorcycle shipping company.

Complete a contract and schedule the day/time for pickup.

Provide the company with easy access to your motorcycle on pickup day.

The driver will transport your motorcycle and notify you of the estimated arrival time.

Your motorcycle will be safely delivered right to your door.
Hire the Top Team to Help When Moving With a Motorcycle
If you want to avoid the hassle and potential hazards of moving with a motorcycle on your own, count on the crew here at Federal Motorcycle Transport! Our team specializes in top-rated motorcycle shipping that is safe, secure, and affordable.
Call today at (309) 550-7543 to learn more about our services or get a free shipping quote from one of our staff members!