Are you ready to see the city from two wheels or explore the countryside with nothing between you and the open sky? Getting a New York motorcycle license isn't complicated; there are only a few basic steps to get a motorcycle permit, get practice, and pass your road test. Here's everything you need to know to get a permit and a NYS motorcycle license with specific restrictions for minors and how to get a waiver for the NY motorcycle road test.
New York Motorcycle License Requirements
Be at least 18 (or 17 with a driver education certificate, or 16 for a Class MJ Junior Motorcycle License)
NY DMV motorcycle learner permit
Pass the NY motorcycle road test (can be waived)
Proof of identity, age, and residence
License fees (vary by applicant's age and county)
How to Get a Motorcycle License in NY
Getting a NY state motorcycle license only requires a few steps. It begins with getting a motorcycle permit, then passing a road test. You can even qualify for a NY road test waiver! Here are the basic steps to earn your NYS motorcycle license.
#1. Apply for a NY Motorcycle Permit
To get a New York motorcycle license, you must first get a New York State motorcycle permit. You can print the Application for Permit, Driver License, or Non-Driver ID Card (Form MV-44) and bring it to the DMV or submit the application online.
You will need to pass a vision test; the NY motorcycle permit test; provide proof of identity, residence, and age; and pay the NY motorcycle permit fees.
You can submit your permit application and complete the New York motorcycle permit test online with a NY.gov ID. You can also submit your application in person, pay the fees, and take the test at the same time.
There are three types of permits. You can use this guide to locate documents for a NY motorcycle license to make sure you have the documentation for the permit/license you want:
Real ID which requires showing proof of Social Security number, proof of lawful status or citizenship, two proofs of residency, and 6 points of proof of name
Enhanced permit/license which can be used to board domestic flights and at land/sea border crossings. It requires the same documents as a Real ID but is only available to U.S. citizens.
Standard permit/license cannot be used for domestic flights and is not a federally recognized form of ID. You must provide proof of date of birth, 1 proof of residency, and 6 points of proof of name.
#2. Take the NYS Motorcycle Permit Test
The next step to get your NYS DMV motorcycle permit is taking a written test. You can take your test online or at the DMV.
The permit test has 20 multiple-choice questions. To pass the NY state motorcycle permit test, you must get 80% or more overall questions correct, at least 50% of road sign questions correct, and at least 60% of the motorcycle questions correct. You can retake the test if you do not pass.
NY Motorcycle Permit Test Practice
You should study both the New York State Driver's Manual and the New York State Motorcycle Manual. Questions from both will be on the permit test.
The NY driver's manual has practice tests for relevant chapters like road signs with actual test questions. There is also a short New York State motorcycle permit practice test in the motorcycle manual.
Online NYS Motorcycle Permit Test Instructions
Be aware that taking the test online requires uploading your identification documents as scanned or photo images. You will receive an email with the permit test link. You must start the New York State motorcycle permit test within 15 minutes of receiving the email.
If you fail the test, you can retake it after waiting at least 6 hours. If you pass, you will receive another email with a link to make a reservation with the DMV. You will need to do this to pay your permit fee, have your photo taken, complete the vision screening, and show the originals of the uploaded documents. You will also need to sign the Online Permit Test Attestation form in front of a representative.
#3. Practice Riding with Your NYS Motorcycle Permit
Once you have your NY motorcycle permit, you can operate a motorcycle legally and practice. The New York DMV recommends getting at least 30 hours of practice, including at least 10 hours of practice in medium to high volume traffic and taking a New York Motorcycle Safety Basic Rider Course.
Until you have your license, you must follow NYS motorcycle permit rules:
You must be supervised by a driver with a valid motorcycle license who is 21 or older
The rider supervising you must remain within ¼ mile of you
You may not drive on any streets within parks in NYC, on any tunnel or bridge under the Tunnel Authority or Tri-borough Bridge jurisdiction, or on the Hutchinson River, Saw Mill River, Cross County, or Taconic State parkways (Westchester County)
If you have a Class MJ permit for drivers under 18, there are additional restrictions. Junior motorcycle permit driving privileges depend on whether you are in Long Island, New York City, or Upstate New York.
Riders under 18 are required to complete at least 50 hours of supervised practice driving. This includes:
15+ hours of driving after sunset
10+ hours in moderate to heavy traffic
Minors must bring a Certification of Supervised Driving form (Form MV-262) completed by a parent or guardian to their road test.
View this post on Instagram
#4. Complete Driver Education or a Pre-Licensing Course (Usually Optional)
If you already have a New York driver license, you can proceed right to the NY motorcycle road test once you feel you are ready.
New drivers must complete the Pre-Licensing Course before applying for a license and taking the DMV road test unless they completed the 48-hour Driver Education Program through college or high school. This course is about 5 hours long.
With a NY driver license and a motorcycle permit, you can skip motorcycle courses, but it's still recommended if you're a beginner or want to brush up on your skills. Completing a New York State Motorcycle Safety Program BRC course even gives you a waiver to skip the road test!
You can find New York motorcycle schools to practice supervised riding here. You can also find pre-licensing courses in New York.
#5. Pass the NY Motorcycle Road Test (Waived with Basic Rider Course Completion)
When you're ready, the next step is scheduling and taking the NY DMV motorcycle road test. You can schedule the NY motorcycle road test online. The system will show you the earliest times at the sites closest to you. You usually need to wait 3-5 weeks for an appointment, but the wait may be up to 10 weeks during the summer.
If you are under 18, you must wait at least 6 months after getting your motorcycle permit before you can schedule a road test.
Be sure to arrive 15-30 minutes before your test time; if you're late, you may need to reschedule.
You will need to bring the following to your motorcycle road test:
Your photo motorcycle permit
A properly operating, inspected, and registered motorcycle to drive for the test (required motorcycle equipment in New York)
A properly operating, inspected, and registered motor vehicle
A driver with a license to transport the examiner during your test
If the driver you bring does not have a valid NY motorcycle license, the motorcycle you bring for the test must be brought by a pickup truck or trailer.
You can use this checklist of NY motorcycle road test requirements to make sure you have everything you need.
The NYS motorcycle road test includes basic vehicle control and crash avoidance skills. Figure-eights and left and right circles performed on public streets are part of the test. You will be tested on your ability to:
Accelerate, brake, and turn safely
Know your bike and riding limits
Adjust speed and position based on traffic
Stop, turn, or swerve quickly
Make and carry out critical decisions
See and communicate with other motorists
You may be scored on safety factors like the speed at which you perform maneuvers, choosing the proper path and staying within boundaries, and safely completing normal and fast stops and turns.
Note: if you take your motorcycle test on a three-wheeler, your NY motorcycle license will be restricted to three-wheel motorcycles.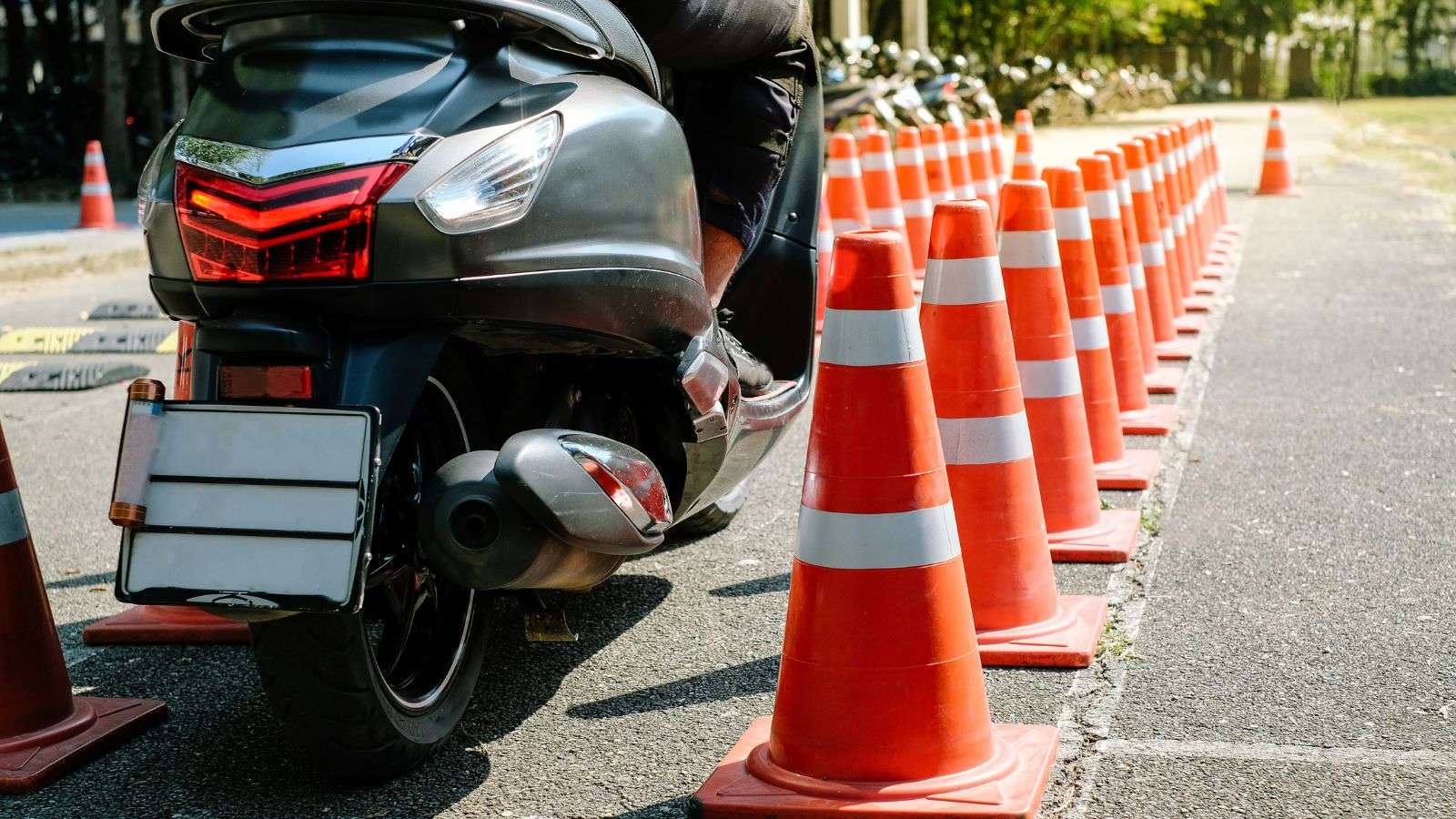 Optional: Motorcycle Road Test NY Waiver
The NY motorcycle road test can be waived if you complete an approved course. 
Motorcycle license waiver course NY requirements include:
Be 16 or older
Have a valid New York license (Class A, B, C, D, DJ, or E)
Have a valid Class M or Class MJ motorcycle permit
Complete a Basic Rider Course (BRC) or Basic Rider Course 2 License/Waiver (BRC2-LW) Course and have a completion card issued by the New York State Motorcycle Safety Foundation within the past two years
You can find one-day New York BRC license waiver courses here.
#6. Receive Your New York Motorcycle License
Once you pass the road test, you will be issued a temporary motorcycle license.
If you already have another class of NY driver license, wait 7 days after the test to apply for a motorcycle license at the DMV. You will need to bring a completed application (marking "change" at the top and writing in "Add Class M" in the "Other Change" box), your temporary motorcycle license and permit, current photo ID, and the $12.50 fee to change your license.
Your driver license will be updated to list both classes. If you have a standard Class D driver license, your new license will be Class DM. The license will expire on the same date as the previous license.
If you do not have a New York driver license already, you will get your New York motorcycle license in the mail within 2 weeks of passing the road test.
NY Motorcycle License FAQs
How old do you have to be to get a motorcycle license in NY?
The minimum motorcycle license age in NY is 16 for a Class MJ junior motorcycle license (with restrictions), 17 (with a driver education certificate), or 18 years old.
Can you register a motorcycle without a license in NY?
Technically, a New York motorcycle license is not required to register a motorcycle. However, New York requires you have insurance before you register a motorcycle and this can be challenging without a license. You must also have the motorcycle inspected every 12 months and within 10 days of buying a motorcycle in a private sale.
Can the NYS motorcycle road test be waived?
The NY DMV motorcycle road test is waived if you are at least 16, have a valid New York motorcycle license and motorcycle permit, and complete an approved Basic Rider Course or Basic Rider Course 2 License/Waiver Course. Visit the NY State Motorcycle Safety Foundation to find motorcycle rider courses.
How much are fees for a NY motorcycle license and permit?
New York motorcycle license and learner permit fees are based on age and location and range from $21 to $120. The fees for a Class M license in NY start at $85 for 16-year-olds to $85 for 18-year-olds. The fee is lower for applicants 21 and older.
There is a $1.00 MCTD fee for every 6 months the license or permit will be in effect. The Metropolitan Commuter Transportation District (MCTD) fee applies to residents in several counties, including Bronx, Kings (Brooklyn), Queens, New York (Manhattan), Richmond (Staten Island), Nassau, Suffolk, Westchester, Rockland, Putnam, Orange, and Dutchess.
There is a $30 fee for an enhanced driver license.
Now that you know how to get a motorcycle license in NY, are you ready to finally get started and hit the open road? Federal Motorcycle Transport is here to help when you're ready to plan your first motorcycle trip or buy a motorcycle from out of state with dependable New York motorcycle shipping.