Ready to plan a motorcycle trip to a far-off destination with beautiful scenery? Are you up for the challenge of a cross country motorcycle trip, planning to attend a big rally, or do you want to cross a dream motorcycle route off your bucket list?
Planning a motorcycle trip comes with unique challenges. Space is limited, you'll be exposed to the elements, and the vibration, road noise, balance, and tight position can be exhausting without the right preparation. How do you plan a long-distance motorcycle trip? Here's what you need to know about how to plan a motorcycle trip with a helpful checklist, tips, and mistakes to avoid.
Planning a Motorcycle Road Trip Route
Ready to get started? Here's what to do when planning a motorcycle trip for an exciting and successful adventure, step by step.
#1. Decide How Much Time You Have & Set a Daily Mileage
Before choosing a destination, consider how much time you have for your ride and a reasonable number of miles you will ride each day. You can multiply the number of miles you'll ride per day by the number of travel days to give you a general range you can travel to choose a destination, but don't forget to consider whether you'll want to take a day off from riding at your destination – or a stop along the way!
Keep your daily mileage reasonable. 250-300 miles per day is reasonable for most riders, assuming good road conditions and fairly straight roads. However, in scenic areas, you may want a slower day with more stops. If you have more experience, you may have days where you can manage 320 to 400 miles but that will probably only leave you time for breaks without stops to take in the scenery.
If you're new to long-distance rides, you may want to assume just 120 to 200 miles per day.
It's also smart to consider the season and climate to decide how long you'll want to be on the road and the types of roads. Narrow country roads and winding mountain highways will take longer (and wear you out faster) than flat, open stretches of highway.
Remember: the goal is to enjoy the trip itself, not feel like you're rushing or leave yourself exhausted and sore. When planning a cross country motorcycle trip, or any multi-day haul, mix the long riding days with easier low mileage or rest days. This will make the trip more enjoyable and comfortable.
As a general guideline, aim to check into accommodations or stop to camp between 6 and 7 pm, or earlier if it's winter. You'll want to budget about an hour for each meal and 15-minute breaks for every hour of riding.
#2. Choose a Destination
Once you know how your range, you can settle on a destination. Maybe you already have a dream trip in mind. If not, here are some resources to give you inspiration.
Recreation.gov is a GREAT resource for choosing beautiful destinations, routes, and activities. Explore thousands of destinations whether you're looking for camping, national parks, mountain passes, fall colors, historic sites, and more. You can also find places to rent camping and hiking gear at your destination.
Turn to Facebook motorcycle groups to ask for recommendations in a state, region, or within your range.
Roadtrippers is a good resource for finding not only destinations but stops along your route.
#2. Map Out Your Route
With your destination in mind, you're ready for the best part of motorcycle road trip planning: deciding the route you will take! There are many motorcycle trip planner apps and websites you can use. Here are some of the best.
Remember to keep your plans realistic. Don't create a hard itinerary. Instead, give yourself many options for stops and things to do and prioritize the things you want to see the most.
#3. Plan Stops
With your route mostly planned, it's important to plan out stops. Mark a few places to stop along the way with good campsites or hotels that are reasonably priced for the area. This is a helpful step to take to avoid trying to find a place last-minute – and possibly overpaying. Ideally, you want to have a general idea of where you will stay each night.
Mark where you can stop for gas if you're riding through rural areas. Depending on your bike, you may be able to travel anywhere from 140 to 350 miles on a tank. In many areas in the Northwest, West, and Great Plains, however, you may drive more than 100 miles between gas stations.
Plan to stop every 90 minutes to 2 hours to stretch, hydrate, and top off the tank. Be aware when you're going to be riding through a more barren or rural area with few gas stations and amenities.
As we note below, you don't need to worry about booking accommodations ahead of time. It's smart to mark places to stop for the night and fuel up when options are limited, but you want to keep your plans flexible.
#4. Make a Backup & Emergency Plan
Something can go wrong on any trip, but preparing for the unexpected is particularly crucial when planning motorcycle trip routes. What happens if your bike breaks down or gets a flat? What if weather conditions force you to change your route?
Plan an alternate route to take if needed.
Download maps ahead of time in case you run into issues in an area without cell coverage.
Check in with someone every day if you are riding alone. Let them know your destination and route for the day.
If you're going into a remote area or riding alone, bring an emergency beacon.
#5. Take Care of Packing & Preparation
The final step? Taking care of the details! This is the time to make sure your motorcycle is ready for a long trip. Make sure you have everything you need for the trip that considers your destination, the climate, and emergency preparation. In a section below, you can review our motorcycle trip packing list to make sure you aren't forgetting anything.
Don't forget to do a test pack to make sure everything fits easily and the bike isn't overloaded!
Take a short ride to get used to the difference in balance and weight.
How to Stay Comfortable on a Long Motorcycle Ride
Even the most experienced rider will find a long trip grueling without the right gear. Here are recommendations to help you plan a long motorcycle ride.
Choose a comfortable full face helmet. You'll definitely be glad you opted for a full helmet instead of a half helmet on a long ride. Your head and face will be completely protected against road debris, insects, rain, sun, and wind.
Earplugs are a must. The sound of your exhaust, the road beneath you, and the wind will go from exhilarating to exhausting after hundreds of miles and can damage your hearing.
Give yourself ways to adjust your feet and position. A long ride in the same position is numbing and painful. An engine guard with highway pegs, floorboards, forward pegs, or a mustache bar are two options to stretch out your legs and change position.
Update your motorcycle seat. Your seat may not be ideal for a long motorcycle trip. A gel seat pad or a pad with air cushions are affordable solutions, or you can invest in a completely new seat for additional support and comfort.
A tank bag is a great investment to keep small essentials like your phone, water bottle, and sunglasses handy.
Adding a power port can be a lifesaver to keep your GPS and phone charged.
Make sure your windshield is high enough to deflect wind but not too tall to block your vision when it's raining.
Heated gloves or heated grips make a world of difference when it's chilly outside.
Motorcycle Trip Planning for Breakdowns, Flats & Blown Tires | Tips to Prevent and Deal with Breakdowns on the Road
Unpredictability is one of the joys of a motorcycle road trip – unless that unpredictability comes in the form of a costly breakdown in the middle of nowhere!
As we discussed above, it's important to have a backup plan and prepare for an emergency by notifying loved ones of your plans and checking in every day. However, there are also steps you'll want to take to reduce the risk of a breakdown and have a way to deal with it.
Have your bike tuned up before your ride.

Make sure the tires are up for the mileage you're going to put on them with plenty of tread and good pressure. Replace any worn parts now, check the fluid levels, and change your oil.

Carefully inspect your wheels and tires and check the pressure every time you stop.

This can help you spot damage in time to perform an external repair before having a proper repair done once you reach a shop.

Make sure you pack a tool roll.

A tool roll won't take up much space and you'll have what you need on hand to potentially fix minor issues.

Bring a spare key.

If possible, trade spare keys with one of your traveling companions. You can also hide your spare somewhere on the bike that isn't in your saddlebags. Make sure you check what size sockets, spanners, or hex keys you'll need. Your kit should include an adjustable wrench, vice grips, and a quality multi-tool.

Bring an inflation tool and small repair kit to deal with flat tires.

For tubed tires, have tire spoons or tire irons in your kit to raise your bike.

Invest in Roadside Assistance.

While Roadside Assistance doesn't cover everything, it's an affordable insurance policy in case of a flat or breakdown. You can opt for Roadside Assistance from HOG or AMA or choose coverage that isn't motorcycle-specific. Be sure to note the policy exclusions and what's covered, which is usually only breakdowns, flat tires, and dead batteries, not towing after a crash. AAA covers towing for up to 100 miles (for Plus members) while AMA only covers the first 35 miles. HOG only covers tows up to 35 miles to the nearest Harley-Davidson dealership.

What do you do if your motorcycle breaks down?

Pull off the road safely. Get as far away from the road as possible, and do not risk your safety trying to protect your bike. If you can, get off the shoulder.
Remain aware of traffic, even if you're on a back road. Remember: the shoulder is dangerous because drivers sometimes swerve toward a stopped vehicle on the shoulder or get distracted and leave their lane. You can also be hit by debris.
Once safe, assess the situation. Determine if you can identify and fix the problem with your tool kit and flat repair kit, or if you need to call for assistance.
Call for help if needed. Turn to your Roadside Assistance or contact a local garage or shop for towing or roadside help.
If you're in an isolated area, be prepared to fend for yourself for some time before you can get help. If you are in an area that may be dangerous (either due to wildlife or weather conditions) or you are injured, a personal locator beacon can be used to summon rescuers.
Where to Stay on a Motorcycle Road Trip
You have many options when planning where you will spend the night. To decide where to sleep when riding a motorcycle cross country, consider how much you want to pack and how much comfort you're looking for.
Hotels and motels. Tried and true, but the more expensive option when planning a motorcycle trip.
Hostels, bed and breakfasts, or guesthouses. Like the idea of making friends and meeting locals on your trip? One of these options may be a good choice, and they're usually cheaper than hotels.
Camping at an RV park or private campsite. Private campgrounds are a good option if you're looking for amenities. Space may need to be booked in advance during the peak season in a popular destination. One of the perks is you can find campsites with amenities like laundry facilities and even camping cabins.
Camping in a state or national park. The perfect way to stay in touch with nature! Park camping is perfectly suited to an adventure motorcycle trip, or a languid trip across the country seeing the sights and hiking.
It's a good idea to know the general area you're going to stop to sleep each night and the options for accommodations.
Make sure you choose a bike-friendly hotel, motel, or bed and breakfast. Call ahead to ask if they have a gated or safe spot to park, or check reviews for recommendations from other motorcyclists.
No matter which option you choose, it's a good idea to take steps to protect your motorcycle while traveling. Use a packable motorcycle cover to protect your bike from the elements overnight and discourage thieves – or anyone who just wants to sit on your bike. You can also add an affordable alarm and lock for additional security. Make sure you take your bags inside with you!
How to Prepare for a Motorcycle Road Trip | Tips for Getting Ready for a Long Ride
Even if you're an experienced rider, your first long motorcycle ride is very different than short trips and commuting. You may want to start preparing for a motorcycle road trip months in advance.
Make sure your bike is in peak condition with a tune-up
Your bike should receive a thorough inspection and tune-up before heading out on a long-distance motorcycle ride. The tires should get special attention because it's better to err on the side of caution and change tires sooner than usual if the tread is getting low rather than risking a dangerous blowout.
Consider replacing the rear shocks if your rear suspension is getting soft and replace your belt if it's getting too close to the recommended mileage.
Adjust your bike's suspension as needed
The factory setting is for the weight of an average-sized rider. Adjusting your suspension to account for the extra weight of your luggage (and a passenger if you'll have one) will give you better handling and a smoother ride.
Plan ahead for tire replacement or maintenance on the road
If you need to, set up maintenance and tire replacement with a shop beforehand for a very long ride. If you're going to need maintenance or new tires sometime during the ride, schedule it in advance and make sure the shop will have the tires you want in stock when you arrive.
Work on your endurance if you're not used to long rides
If you have never attempted a long ride before, you'll be surprised just how exhausting it is! You'll need a lot of stamina, core strength, and flexibility so consider an exercise routine. Take several shorter rides with all the gear you're going to bring and work your way up to longer rides.
Motorcycle Trip Checklist | Packing for a Motorcycle Trip
This motorcycle road trip checklist will help you pack everything you'll need. Note that we won't cover camping gear or anything you might need for the destination itself. We'll also skip basic riding gear – but note the tips and recommendations above on how to plan a motorcycle trip that's comfortable!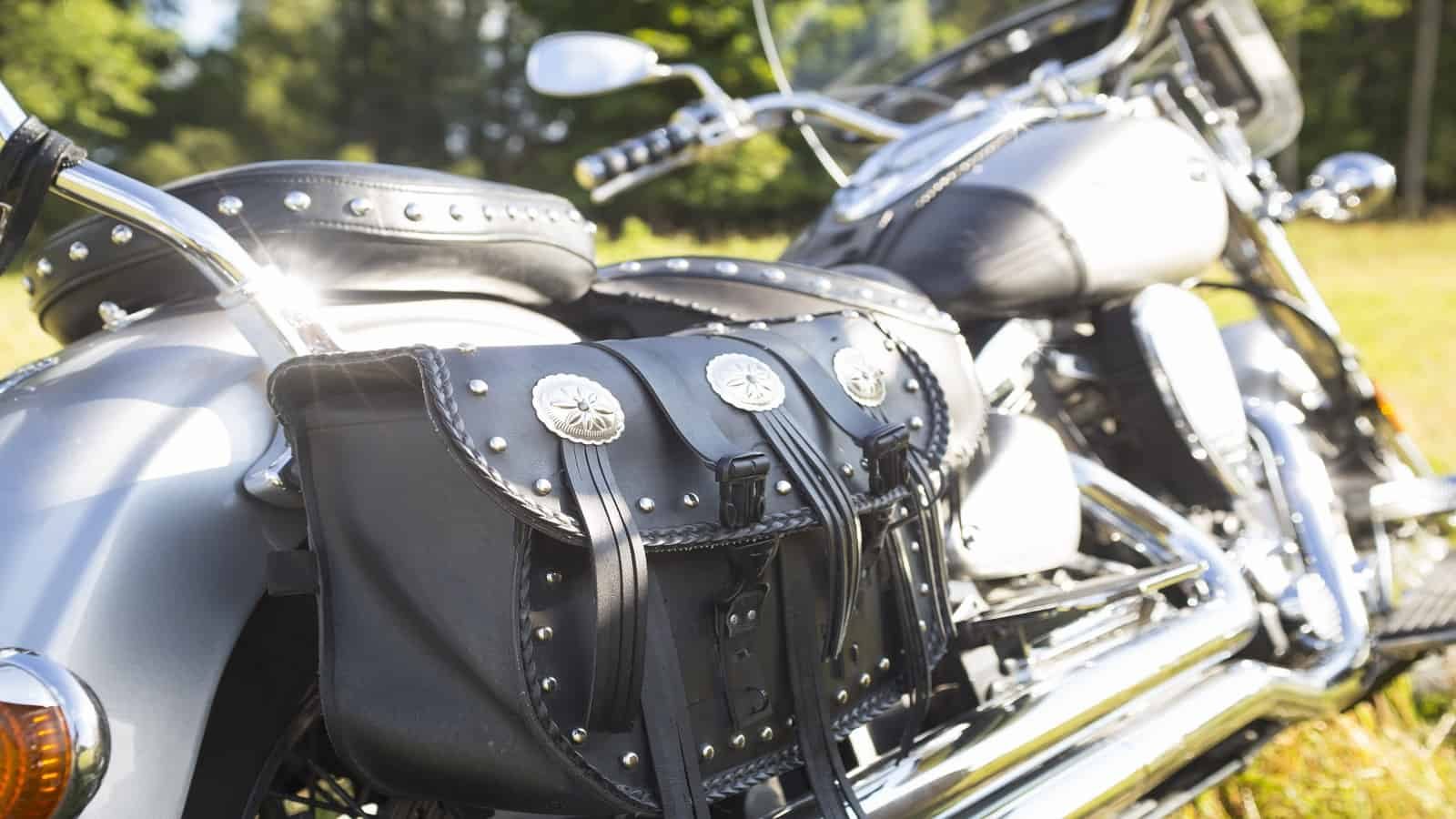 First aid kit. This should include an emergency blanket, sterile gauze, burn gel, antibiotic ointment, band-aids in several sizes and butterfly bandages, hand sanitizer, tweezers, trauma shears, and Dermabond. You'll also want to have anti-allergy and anti-inflammatory pain medication to help with swelling and aches during your ride. Pack sunscreen lotion and lip balm too.
Motorcycle tool roll.
Tire repair kit.
Cleaning supplies. Pack a travel-sized spray solution and microfiber cloth to clean your windscreen and visor.
Waterproof gear.
Clothing for all weather: hot, cold, and/or wet. Dress in cool clothing when the weather is hot, but be ready to add layers or change protective gear.
Earplugs. The wind and road noise can be annoying and damaging to your hearing.
Packable motorcycle cover. It'll keep your bike dry and clean while deterring thieves.
Standalone GPS. Download maps in advance to plan for remote areas without cell service.
GPS mount.
Hydration pack.
Personal locator beacon and/or satellite communication device if traveling alone in a remote area.
Spare key.
Toiletries.
If you're planning to camp, Rever, the popular motorcycle road trip planner app, offers a good guide to what you should pack. KOA also offers a great guide to motorcycle camping.
Should You Ride the Whole Way or Ship Your Motorcycle?
A final consideration is whether or not you want to ride roundtrip to your destination. Did you know you can ship your motorcycle closer to your destination for a one-way ride? Or even use roundtrip motorcycle shipping to enjoy short or long rides in a different region without the difficulty of getting there and back.
There are many reasons why motorcycle vacation shipping may be a good choice:
You're planning an adventure motorcycle trip and your bike isn't suited for a long road trip.
You don't have enough time to complete your route roundtrip.
You want to plan a motorcycle trip one-way to a rally or event.
You're not up for a cross-country motorcycle trip but want to explore the country.
You have motorcycle rides planned throughout an area and don't want to spend days getting there and back.
Motorcycle Trip Planning: Shipping Your Bike
When planning a motorcycle trip that involves shipping your bike, there are a few things to keep in mind.
Remember that the last-minute delivery is the most unpredictable and challenging. If you decide to have your motorcycle shipped directly to your destination, you will have less control over when it gets there. There will also be a fairly large delivery window during which you will need to be available to receive your bike.
The best way to ship a motorcycle is using the motorcycle transport company's warehouse or distribution center closest to your destination. Along with cost savings, you'll be better able to predict when your bike will arrive and you can pick it up at your convenience then hit the open road!
You can learn more about motorcycle transport for a road trip or rally with our complete guide covering how to ship a motorcycle. We also offer an in-depth guide to motorcycle shipping costs with real averages based on what our customers pay.
Motorcycle Trip Planning FAQ
How do I use Google Maps for motorcycles?
Tap the "Search here" bar in Google Maps (browser or app), enter a destination, and begin navigation. You will see route options by car, motorcycle, walking, public transportation, and bicycle.
How long is too long on a motorcycle ride?
It depends on your experience. 150 miles is a comfortable amount for a relaxed day exploring the scenery and attractions. 300-400 miles in a day may only leave time for breaks, but most experienced riders can handle this amount. Consider how many days of long riding you can endure and how much you want to do to decide how long is too long.
How far should you ride a motorcycle in a day?
The answer depends on your experience, weather conditions, and the type of road and terrain. Aim for 250 to 300 miles in good conditions and on mostly straight roads. Reduce the distance if you want time to explore. You can manage 400-500 miles if you only stop for breaks and meals.
What is the best motorcycle for road trips?
The best motorcycle for long trips is a touring bike or cruiser. Touring bikes are designed specifically for long road trips which means they're much more comfortable with protection from the elements. Cruisers have better performance and they're easy to customize, but they have less comfort and storage.
Ready to get started planning a motorcycle road trip of your dreams? If you need reliable motorcycle transport to or from your destination, count on Federal Motorcycle Transport. We have convenient warehouse locations throughout the country and more than 30 years of experience with 70% of our business coming from referrals and repeat customers. Call us today or request a free quick quote online to get started!