If you mention the name Royal Enfield to even the most experienced motorcycle enthusiast in the United States, it is quite possible you'll be met with a look of confusion and uncertainty. Although these classic bikes have been around for over a century, it wasn't until the last few years that Royal Enfield motorcycles finally made their way over to North America.
Boasted as "the oldest global motorcycle brand in continuous production", Royal Enfield has a unique history of ownership and manufacturing that has taken the company from England to India and beyond.
Presently known for their unique branding style, reliable engines, innovative designs, and affordable price, more people are considering buying these fun bikes. With plenty of great customization options, there is a lot to love when it comes to Royal Enfield motorcycles.
History of Royal Enfield Motorcycles
Back in November 1891, two businessmen named Bob Walker Smith and Albert Eadie purchased George Townsend & Co, which was one of the leading manufacturers of sewing needles at the time. The company, located in Worcestershire, England, had already begun to shift gears as they were starting to develop bicycles instead. This was the main reason Smith and Eadie were interested in acquiring the business in the first place.
Only a few years later in 1894, the company rebranded their bicycles under the name Royal Enfield due to a large contract they received from the Royal Small Arms Factory in Enfield, Middlesex.
Before they created motorcycles, Royal Enfield dabbled in the production of other motor vehicles such as the quadricycle. One of their quadricycles even entered and completed the inaugural 1000 Mile Trial from London to Edinburgh and back in the year 1900.
View this post on Instagram
It wasn't until the following year in 1901 that Smith and Eadie developed and produced their first Royal Enfield motorcycle with the help of a French engineer named Jules Gotiet. Known as the Minerva, its rear wheel was driven by a rawhide belt and an engine that was positioned near the handlebars.
After many years of production, Royal Enfield was acquired by Eicher Motors Limited in 1990, a company in India that was known for developing commercial vehicles and tractors. They remain the owners today, though the motorcycles are still produced under the same Royal Enfield name.
In 2015, Royal Enfield opened its first American headquarters in the city of Milwaukee, Wisconsin. They now have over 30 dealerships spread across the United States and Canada, with more opening every passing year.
Royal Enfield Motorcycle Models
So which Royal Enfield motorcycle is the best? It will be up to the rider to decide which of the Royal Enfield models fits their needs.
While many types of Royal Enfield motorcycles have come and gone over the years, they still have a strong lineup of bikes that are still in production. These provide future riders with a wide range of choices when it comes to size, engine, fuel economy, and overall style.
Whether you're looking for a daily commuter or one that you can take on long trips across the country, you're sure to find a Royal Enfield that fits what you want.
INT 650
Made to be taken for cruises across highways or back roads, the Interceptor is a great Royal Enfield motorcycle for both experienced riders and rookies. Also known as the INT 650, it features a twin 648cc engine that adds up to about 47 horsepower. It was the first model to use a 6-speed gearbox, which makes it easy to handle and creates a smooth ride no matter where you take it.
View this post on Instagram
The Interceptor has wide braced handlebars and a twin seat. It comes in a variety of colors including ravishing red, orange crush, silver spectre, mark three, baker express, and more.
Continental GT
Featuring a classic racer silhouette, the Continental GT is often referred to as the "cultural phenomenon that refuses to fade away". This awesome Royal Enfield motorcycle boasts a bump stop seat and clip-on handlebars for the ultimate retro look. It was built for speed and aerodynamics with its 4-stroke 648cc engine.
View this post on Instagram
The overall style of the Royal Enfield Continental GT may seem similar to the INT 650, but it has enhanced ergonomics to provide a more comfortable riding position for everything from commuting to trekking down the open road.
Himalayan
The Royal Enfield Himalayan was their first motorcycle made to be taken offroad. It has a single-cylinder 411cc engine that gets about 24 horsepower. The gearbox is a 5-speed constant mesh that is simple to shift as you ride.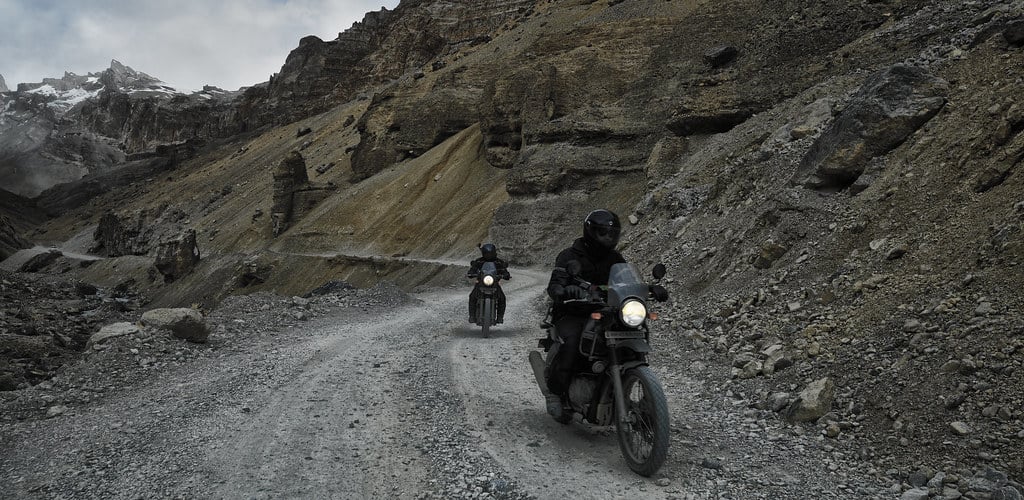 "A tribute to the 'Royal Enfield Himalayan'…" by lensnmatter is licensed under CC BY 2.0
The Himalayan also comes with dual-channel switchable ABS, providing full control of your experience when traveling offroad. Its comfort is extended even further through the split-cradle frame for enhanced suspension on rocks and dirt roads.
Classic
Known for getting as much as 96 mpg fuel economy, the Royal Enfield Classic gets the best mileage across the board of their motorcycles. The Classic 350 specifically remains one of the most popular models ever created by the company as they continue to be produced. It is most recognized for its post-war style that features a die-cast headlight casing and a wide range of "old-world" colors.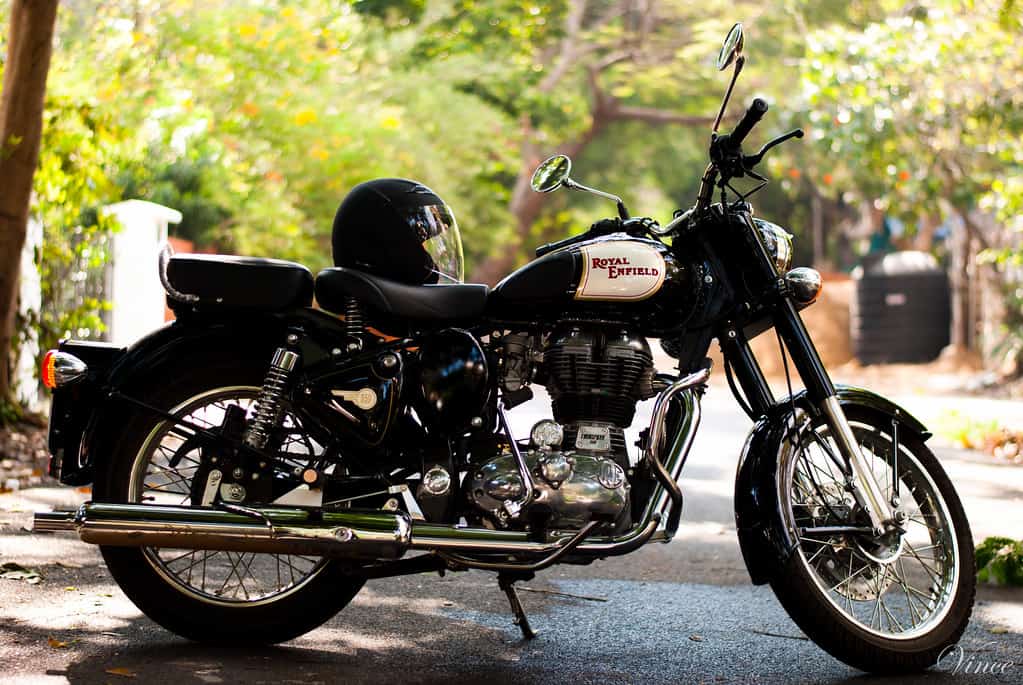 "Royal Enfield – Classic 350" by Vinc3nt is licensed under CC BY-SA 2.0
Riders interested in the Classic have the option of either a single saddle seat for themselves as well as the choice to add a pillion seat for a passenger. It comes standard with a single-cylinder 4-stroke 499cc engine with around 27 horsepower.
The Royal Enfield Classic variations include:
Classic 500 Tribute Black

Classic 500 Squadron Blue

Classic 500 Chrome

Classic 500 Stealth Black

Classic 500 Gunmetal Grey

Classic 500 Redditch

Classic 500 Battle Green

Classic 500
Bullet
Often considered the runner-up to the Classic in the race for the best Royal Enfield motorcycles, the Bullet is another great option for those who want a modern ride with a classy look. Originally designed in 1932, the Bullet has consistently held a captive audience and a cult-like following. Its open engine, handpainted details, and many other features have made the Bullet one of the most iconic designs of any motorcycle ever created.
View this post on Instagram
It joins the Classic with a 499cc engine and 5-speed constant mesh gearbox. The Bullet became famous when legendary rider, Johnny Brittain, rode his own and won the Scottish Six Days Trial two times in less than 5 years.
Bullet 500

Bullet Trials 500
Where Royal Enfield Motorcycles Are Made
When they first began back in 1901, Royal Enfield motorcycles were manufactured at the Redditch factory located in Worcestershire, England. All production occurred there until the facility was closed down in the year 1967.
Once Royal Enfield was purchased by the Indian company called Eicher Motors Limited, production was moved to their newly built facilities. They now have numerous plants spread across the country including their first locations in Jaipur, Rajasthan and Oragadam, India. Within the last few years, production has increased as additional factories have been opened in Tiruvottiyur and Vallam Vadagal, which is near Chennai, India.
Royal Enfield also has its North American headquarters in Milwaukee, Wisconsin.
You can find the Royal Enfield dealership that is closest to you by using their online store locator.
How Much Do Royal Enfield Motorcycles Cost?
The final price of your Royal Enfield motorcycle will depend on the customizations you decide to add. The variety of configurations you can choose from may feel unlimited at times as you look through the many specifications and accessories that are available. A few of the main configurations you'll be able to decide on include:
Bodywork

Controls

Engine Enhancements

Luggage Add-ons

Engine Guards & Other Protective Equipment

Custom Seats

Wheels

And more
Most of these customization options will come at an additional cost to your final purchase price. But even with these add-ons, the cost of buying a Royal Enfield is considered highly reasonable for the value and quality you get with these motorcycles.
The Interceptor 650 starts at a price point of around $7,399 depending on the dealer near you. Many riders like to add customizations like fly shields to this model since they tend to be taken on longer trips.
View this post on Instagram
Royal Enfield Continental GT models start at $7,599 and rarely have many customizations added due to their already sleek, racer style.
For riders interested in the Royal Enfield Himalayan, you can play on paying around $5,699 for a base model. Because of its offroading capabilities, you may want to consider some add-ons to improve your rides on dirt roads, through gravel, and even in mud.
The beloved Royal Enfield Classic has an affordable price of $5,999 for the basic stock build. You can either add every customization available or simply enjoy the original ride the way it was meant to be.
With the lowest price point across the board, the Royal Enfield Bullet starts at only $5,399. This is a great price for a motorcycle that is frequently recognized as one of the longest run productions in the world.
Royal Enfield Reviews
Over the past few years, the Royal Enfield brand has seen a dramatic increase in popularity across the United States. Since the first North American location was only opened in 2015, it hasn't had as much time to gain traction as it has in England and India. But that hasn't stopped a wide range of U.S. motorcycle enthusiasts from sharing their thoughts and reviews about Royal Enfield motorcycles.
Cycle World shared its thoughts on the Royal Enfield Classic 500 by talking about how it "harkens back to the post-war era with its throwback styling". They also go on to say that the crowd favorite has "soul and character" beyond many other motorcycles of a similar style.
In an article by Revzilla, Julia LaPalme writes about both the Royal Enfield Continental GT and the Interceptor 650. She mentions how the two bikes have a "very classic look, with slightly different personalities". LaPalme says both motorcycles offer plenty of power and speed to have fun and enjoy the overall experience.
Even a Forbes contributor pokes fun at the fact that Royal Enfield is still a relatively new name to motorcycle fans in the United States. He leads into his positive thoughts about the style, design, and riding experience that comes with these exciting bikes.
Is a Royal Enfield Motorcycle the Right Ride for You?
Thanks to their classy look and supreme reliability, thousands of people are purchasing Royal Enfield motorcycles every year. If you want to check one out and take it for a test ride, find the dealership nearest to your location.
Depending on where you live, you may also need help transporting your newly purchased motorcycle to your home. The professional team at Federal Motorcycle Transport specializes in the pickup and delivery of motorcycles so that you don't have to worry about putting a bunch of miles on it straight from the dealership.
Get in touch with our top-rated team today by calling (309) 550-7543 for a free quote over the phone. Or complete our online shipping quote form to get an estimate for your motorcycle transport.