You're ready to move across the country, you have the movers booked and your new home waiting, but now you need to figure out how to move a motorcycle cross country. Or maybe you're planning a motorcycle trip of a lifetime but you aren't up for a cross country motorcycle trip or you can only do the trip one-way. You may have even purchased a bike from a dealer or private seller and now you need to arrange to ship it to your home.
Cross country motorcycle shipping is easier and more affordable than you may think with experienced motorcycle shipping companies. Here's everything you need to know to ship a motorcycle across country, step by step.
Shipping Motorcycle Cross Country – How to Ship a Motorcycle to Another State
Here are the simple steps to take for moving a motorcycle across country. The process is fairly easy, but don't underestimate the importance of doing your homework to choose the right options.
#1. Decide Between Enclosed vs Open Transport
You'll need to make an important decision before you even begin with choosing the best motorcycle shipping company. Will you choose open or enclosed motorcycle transport? Some companies only offer one or the other option.
Open carrier transport means lower cross country shipping costs, but a much higher risk of damage to your bike. As a general rule, open shipping is only recommended if you are transporting your bike a short distance, or you have a lower value bike and potential damage to your paint job and other issues are an acceptable risk.
The best way to ship a motorcycle is in an enclosed carrier protected from the elements, especially when moving a motorcycle across country. Because motorcycles are smaller and lighter than cars, and need to be secured and strapped down for transport, they are more vulnerable to damage from the elements than cars.
To decide if enclosed transport is the right option for shipping a motorcycle cross country, imagine your bike possibly being exposed to days of snow, hail, rain, flying rocks and road debris, and high winds.
#2. Choose the Best Motorcycle Shipping Company for Cross Country Transport
Shipping motorcycles is different from shipping cars. It's important to work with a specialized motorcycle transport company to protect your bike instead of relying on auto shippers who happen to provide cross country motorcycle transport.
Why? Because a car is stable on its four wheels and much heavier than a motorcycle. Cars are easier to be transported on an open trailer and do not require the same level of care to stabilize and secure for shipping. Before shipping a motorcycle across country, extra precautions must be taken to secure it to a pallet and load it properly.
Not all motorcycle transport companies are equal. Remember that the lowest cost to ship motorcycle cross country doesn't mean you're getting the best deal if your bike arrives damaged or way behind schedule. That doesn't mean reliable motorcycle transportation services need to cost a fortune, either.
Here is what you should look for in a dependable cross country transportation company.
Licensed and insured
Specializes in shipping motorcycles
Specialized equipment for secure transport
Enclosed air-ride transport for worry-free cross country motorcycle shipping
Reliable transit time and tracking services
Low claims rate
Delivery options to fit your needs
Federal Motorcycle Transport has more than 30 years of experience with shipping motorcycles cross country. We handle over 5,000 transports each year and more than 70% of our business is based on referrals and repeat customers!
With Federal Motorcycle Transport, you can rest easy knowing your motorcycle will be carefully secured to a specialized pallet for transportation and tracked every mile of the way. That's why we are the exclusive U.S. motorcycle shipping company for AMA, HOG, and other leading motorcycle groups.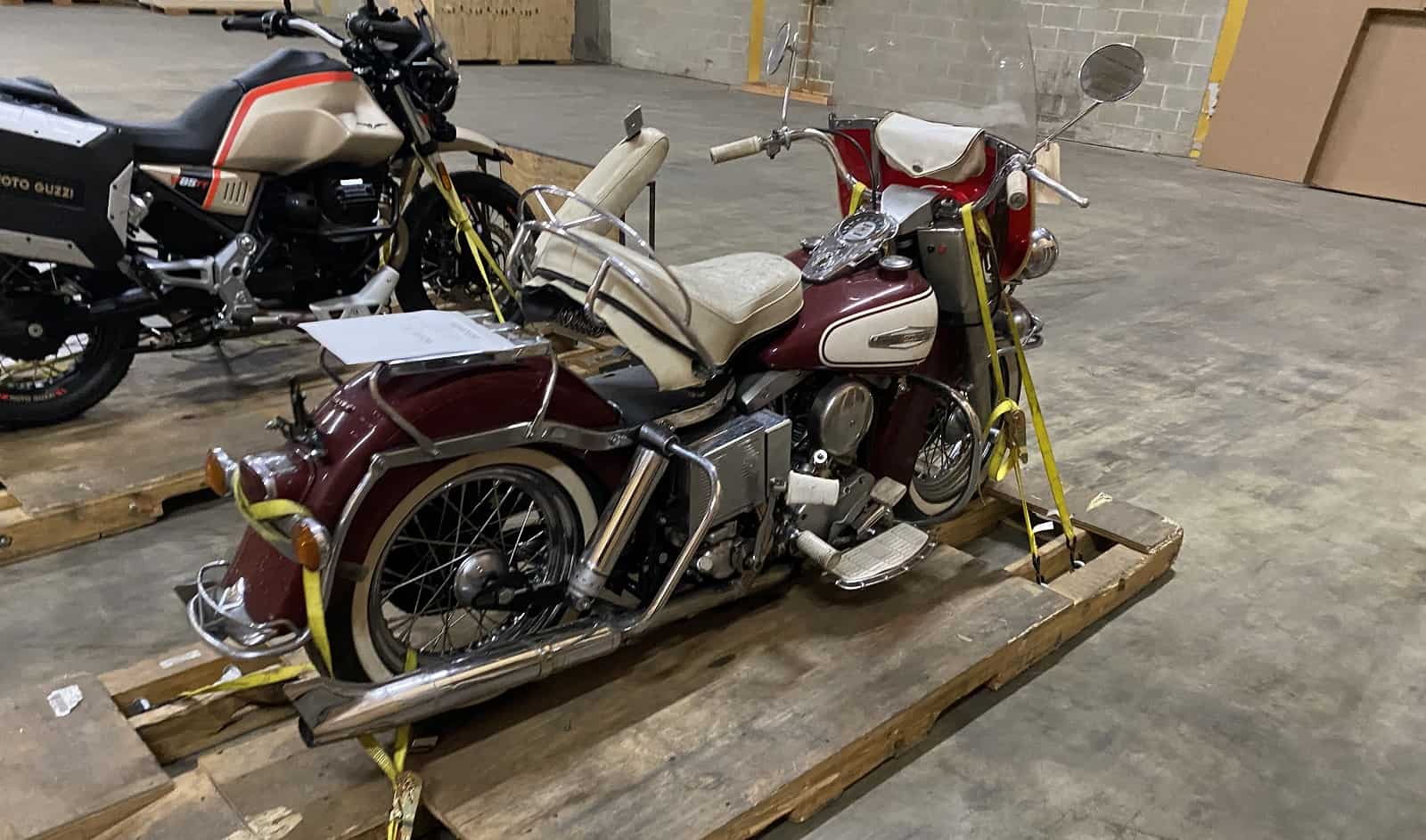 #3. Choose to Ship a Motorcycle to a Warehouse or Door-to-Door Motorcycle Shipping
After choosing a motorcycle transport company you trust, the next step is to decide on the type of motorcycle delivery service and whether you want to drop off your bike or have it picked up.
Door-to-door motorcycle transport is a convenient option, but remember there is a premium for this service. It also comes with some downsides you may not anticipate. The property must be tractor-trailer accessible. A popular option is arranging for commercial pickup or delivery through a local distribution center or motorcycle ship.
By dropping off your motorcycle at the transport company's warehouse and having it delivered to their warehouse closest to your destination, you eliminate the potential delays and hassle of last-mile shipping. Drop-off and pick-up can be done at your convenience with more predictable shipping times. You won't be left waiting at your destination during a long delivery window.
Federal Motorcycle Transport offers both transport options for your convenience. You can see our warehouse locations throughout the country.
#4. Insure Your Motorcycle
Next, make sure your bike is protected with sufficient insurance coverage. The transport company likely offers basic transport coverage, but this is not designed to cover the full replacement value of your motorcycle. Instead, it's intended to cover minor damage that may occur during transport.
You can check with your motorcycle insurance carrier to see if your policy covers damage during third-party transportation, but most policies do not. To make sure your bike is covered, ask your insurance company if you can add a temporary rider to your policy. You can also purchase additional insurance coverage through the motorcycle shipping company or a third-party carrier.
#5. Prepare Your Motorcycle for Transport
The last step is getting your motorcycle ready for transport!
Before pickup or drop-off, clean your motorcycle well and document your motorcycle's condition by taking plenty of photos and noting any existing damage. Next, you'll need to get your bike ready.
Make sure your tires are properly inflated
Check that the battery is fully charged
Make sure your fuel is at a quarter-tank or less.
Disconnect any alarm system.
Remove loose or detachable accessories from your bike.
Click here for more tips for preparing your bike for shipping.
Once your motorcycle is ready, you can schedule pick-up service or drop it off with the carrier. All that's left is getting to your destination and accepting delivery of your bike!
How Much to Ship a Motorcycle Cross Country?
A major concern you likely have is, how much does it cost to ship a motorcycle cross country? Is it even worth it? As you can imagine, there are many factors affecting motorcycle shipping costs.
As a general rule, you will pay between $0.30 and $0.70 per mile transported. Your mileage cost is based on the origin, destination, and route. With a more popular route, your cost will usually be lower.
The average cost to ship a motorcycle cross country from Florida to California is $937 or $979 from Texas to California. The average cross country shipping costs from New York to California? Just $925, about how the cost per mile.
Check our complete guide to estimate motorcycle shipping cost which includes actual average costs based on shipments we have handled at Federal Motorcycle Transport, not inaccurate numbers based on pool quotes.
Time to Ship Motorcycle Cross Country – How Long Does Shipping a Motorcycle Across Country Take?
One of the biggest questions you may have, aside from cost, is how long it takes to ship a motorcycle across country. Your transit time will depend on factors like:
Whether you choose warehouse delivery or residential or commercial delivery
Whether you need to schedule to have your bike picked up or you are dropping it off at a warehouse location
Transport company's availability
Origin and destination including the shipping route
Weather conditions
As a general rule, cross country shipping can take anywhere from 8 to 14 business days.
Now that you know how to ship a motorcycle across country, are you ready to get started with dependable transport services? Request a free motorcycle shipping quote online or give us a call to discuss how we can help you.