There's nothing like a ride on your bike, but making it across state lines or across the country comfortably on it, isn't always possible. If you're ready to connect with like-minded bikers at Daytona Beach Bike Week, you need to ship your motorcycle. Since this is your baby, you know you want it to be taken care of. Thankfully, transporting your bike isn't all that hard. 
Daytona Beach Bike Week – What is it?
Daytona Beach Bike Week is one of the top motorcycle festivals in the world. Half a million people attend each year, so that they can party it up for 10 days at a world-renowned bike rally. It started all the way back in 1937, but it was originally called the Daytona 200. However, it didn't get popular until 1947. Now, it's the world's largest motorcycle rally, and people come from all over the country to experience it. It's usually held the first week of March.
During this event, it's basically a biker's dream. There are tons of vendors with the latest and greatest biking products, everyone who attends loves motorcycles, and there are incredible racers to watch. It's filled with amazing food, concerts, and good old-fashioned fun.
Why Ship Your Bike To Daytona Bike Week?
Those who are attending Daytona Bike Week are all motorcyclists. In fact, you can't go within a few miles of this place without it being overrun with bikers the whole 10 days of the festival! One thing is for sure: Anyone who attends is bringing their bike. Sometimes, people who haven't been before decide to keep their motorcycle at home. Once they get to the festival, they realize the mistake that they've made. Since everyone else has their bikes, it's underwhelming to be surrounded by such motorcycle greatness only to have to hop in your rental car at the end of the day.
With half a million people and the majority of them having their motorcycles with them, won't you feel left out by leaving yours home? Most people decide to keep their bikes at home because they know they don't want to drive it all the way to Florida. It can be a very long trip for those who are across the country or out of state. This can lead to backaches, unfortunate weather delays, and safety concerns when driving. So, people think that it's easier to leave their bikes at home and still go to the festival.
While the festival is always a good time, you simply don't get the same experience without having your bike with you. That's why a lot of people ship their motorcycles to the festival. They get to drive or fly comfortably, and then once they're at Daytona Beach, they can still grab their bike. Being at Daytona Bike Week truly makes you feel like you're a part of the biggest biker gang in the country, and you simply can't take part in it without your motorcycle!
Is Shipping a Motorcycle Safe?
Shipping a motorcycle is extremely safe. You don't have to worry about bad weather, crashes, or any other harm that your motorcycle usually comes across when you're driving. It'll be safely stored on custom-made motorcycle pallets.
How Long Does Shipping a Motorcycle to Daytona Beach Take?
Shipping times vary depending on your starting location. However, we usually estimate about 8-10 business days of transit time. So, to get it to Daytona Beach on time, you'll need to start thinking about shipping in February.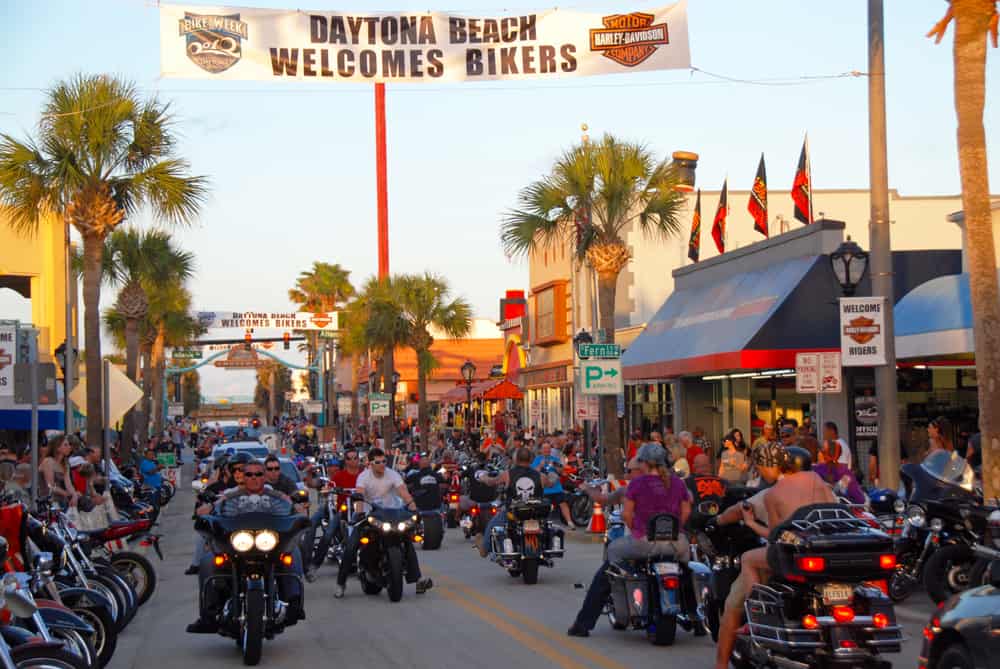 Does the Motorcycle Stay in One Truck the Whole Time?
When you ship a motorcycle, it doesn't stay in one truck. It will change semis and drivers. However, they have to note and sign for any damage that is on the bike with each transfer, which allows for a seamless shipping process.
Shipping Your Motorcycle to Daytona Bike Week with Fun Transport
So, you want to go to Daytona Bike Week and bring your motorcycle, but you don't want to ride it. That's where Fun Transport comes in to save the day. We're a top-rated motorcycle shipping company that's been in business for over 30 years. How does it work?
Door to Door Process
We take pride in the motorcycles that we transfer, which is why we offer a door to door experience. From the beginning, we work with you to secure your bike so that it's safe. We begin by putting the motorcycle on a specially-designed pallet. Then, we use custom motorcycle straps to keep it from moving. Though your bike will be transferred to different trucks, it will not be removed from the pallet. Once we get to your destination, we'll meet you at the desired drop-off and help you safely remove your bike.
Cost of Shipping
The cost of shipping a motorcycle depends on your origin-destination and how far the bike is going. For shipping to Daytona Bike Week, you can expect to pay around $500-$1,000. We offer discounts for members of HOG and AMA.
Superior Experience
Your bike is your livelihood, and when it comes to shipping it, you want to be sure it's kept safe. At Federal Transport, we know how important your motorcycle is. We ship over 5,000 motorcycles every year, and we have over 30 years of experience. Call 309-694-4500 x 2217 today for a free quote!