Tennessee is home to some of the best nature, wildlife, and landscapes in the United States. Known for its incredible attractions, such as the Smoky Mountains, Fall Creek Falls, and Reelfoot Lake, Tennessee is one of the best states for motorcycle riders. If you are searching for your next motorcycle ride destination, then look no further than Tennessee. Here are just some of the best motorcycle rides in Tennessee.
Cherohala Skyway | One-Day Tennessee Motorcycle Ride With Twisty Roads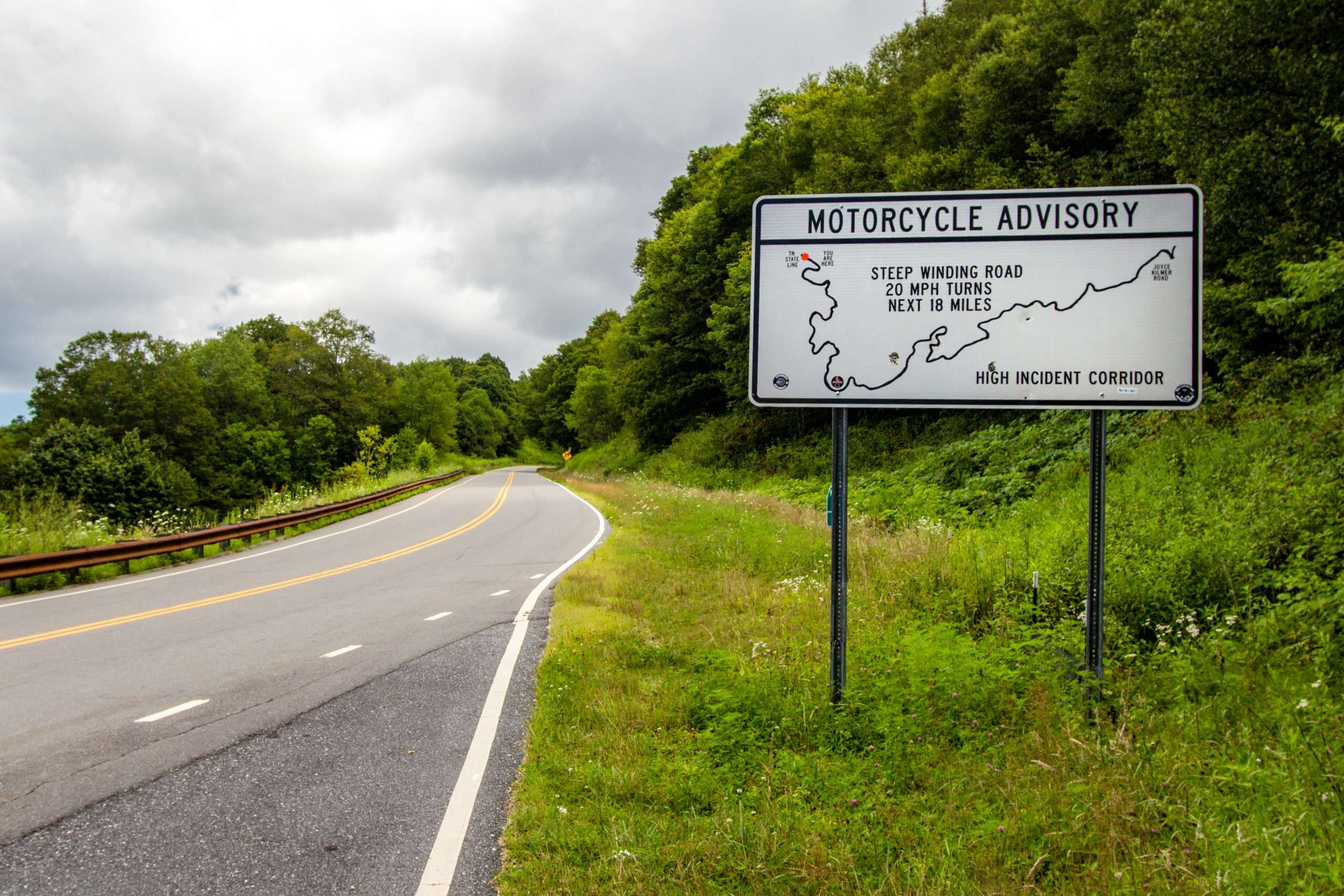 If you are looking for a short, leisurely Tennessee motorcycle ride, then check out the Cherohala Skyway. This ride is 51.8 miles long and takes about 1.5 hours to complete. You'll begin your ride in Robbinsville, NC, and end in Tellico Plains, TN. This iconic route is fairly new, opening in 1996 after 34 years of construction. The Cherohala Skyway gets its name by combining the names of the two national forests you pass through on the ride; The Cherokee and the Nantahala.
This is one of the best motorcycle rides in East Tennessee for those who are looking for a smooth and easy ride. This ride includes freshly paved roads, low traffic, and long curves, allowing you to slow down and enjoy the beautiful nature. There are many scenic overlooks that you can stop at to have a picnic or just admire the amazing views. Toward the end of your ride, stop at the Cherohala Skyway Visitor Center. You can grab a snack, a travel map, and souvenirs inside this large building.
Cades Cove Loop | Slow Motorcycle Ride In Tennessee Close to Gatlinburg and Townsend
If you are traveling to Gatlinburg or Townsend, then make a quick trip to Cades Cove Loop. This is one of the best Tennessee motorcycle rides and is only 27 miles from Gatlinburg and 9 miles from Townsend. Although this ride is only 11 miles long, it will likely take you a few hours to complete due to traffic and stops. This is a popular tourist destination, so you will likely encounter traffic on your ride.
View this post on Instagram
Cades Cove was a settlement of just a few hundred people in the early 1800s, and many homes, shops, and churches are still standing and open to visitors to walk through. Some notable places include Billy Tipton's cabin and John Oliver's cabin. There is also a visitor center where you can stop to grab a bite to eat or purchase a souvenir. Cades Cove Loop is open from sunrise to sunset every day of the week. On Wednesdays and Saturday mornings before 10:00 AM from May to September, only foot and bicycle traffic is allowed to use the loop. After 10:00 AM, you can feel free to take your bike out on the loop.
The Tail of the Dragon | One of the Most Famous Motorcycle Rides in Tennessee
Tail of the Dragon Road is easily one of the most popular motorcycle routes in Tennessee. Riders come from all over the world just to check this Tennessee motorcycle ride off of their list. Dragon's Tail Road has an astonishing 318 curves in just 11 miles, making it an incredible ride for thrill-seekers. The Tail of the Dragon actually begins in North Carolina and then dips into Tennessee as you go. In addition to the rip-roaring windy roads, this road is bordered by the Great Smoky Mountains and the Cherokee National Forest, making for incredible views the entire way.
View this post on Instagram
There are no roads intersecting the Tail of the Dragon, so you can expect a smooth ride with no interruptions. No matter what time of year you visit this iconic road, you are likely to encounter other motorcycle riders. There are also often photographers situated along the road to take photos of the riders as they pass. Although the Tail of the Dragon is an exciting ride, it is important to be safe and stay aware of your surroundings. Keep an eye out for wildlife, and make sure you are mindful of other drivers and riders on the road. This ride only takes about 25 minutes, so you may want to complete it more than once!
Gatlinburg to Cherokee | One of the Top Smoky Mountain Motorcycle Rides in Tennessee Along Famous Attractions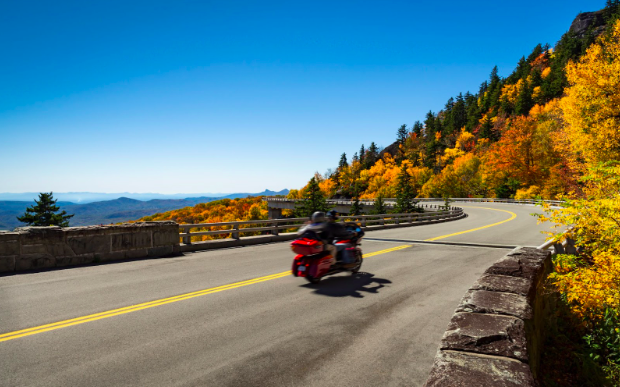 The trip from Gatlinburg to Cherokee is one of the most popular Smoky Mountain motorcycle rides. This 47 mile ride takes you over the mountain via US 441 and takes a little under two hours to complete with no stops. This ride is perfect for those who want to explore along the way. You will pass by famous attractions such as Clingman's Dome, which is the highest point in the Great Smoky Mountains National Park, as well as Rockefeller Memorial and Newfound Gap.
This route also has many entry points into the Appalachian Trails, so if you want to hike on the way, the Gatlinburg to Cherokee motorcycle route is your best bet. This is a fairly smooth and easy ride, although you do need to be aware of a few windy roads as well as drop-offs. If you want to go further than Cherokee, then you can ride the additional 30 miles to Bryson City, North Carolina. This small mountain town has shops, horseback riding, zip-lining, and more!
The Devil's Triangle | Challenging Tennessee Motorcycle Ride With Lots of Twists and Turns
When searching for motorcycle rides in Tenn., you can't skip out on The Devil's Triangle. Some would say that The Devil's Triangle is even more difficult than the Tail of the Dragon in terms of twists and turns. This 44-mile loop starts just north of Oak Ridge, Tennessee, and travels along TN 62, TN 116, and TN 330. Before traveling along the Devil's Triangle, you need to decide whether you want to take the route clockwise or counter-clockwise. The clockwise route starts on TN 62 and is easiest for riders who want to take the sharp turns downhill. However, the pavement on this route is much rougher. The counter-clockwise route begins on TN 330, and although the pavement is smoother, you will be taking the sharp turns uphill and will therefore need to take the proper precautions to keep from stalling.
This ride is full of twists and turns, so it is essential that you pay attention to where you are going. The Devil's Triangle has many steep drop-offs and cliffs, so make sure you don't exceed the speed limit. Before you start your trip, you may want to tour the Brushy State Penitentiary, which is Tennessee's first maximum-security prison. The penitentiary closed down in 2009 and has since opened for tours and events.
View this post on Instagram
Nashville to Ashland City | One of the Best Motorcycle Rides in Nashville TN
Are you trying to plan a motorcycle trip from Music City? Nashville to Ashland City is one of the best Nashville motorcycle rides (as well as one of the best motorcycle rides in Tennessee). This ride starts in Northern Nashville near Eatons Creek Road and goes all the way to Ashland City. The quick 14 mile ride should only take you about 30 minutes to complete without making any stops. This beautiful route will take you down smooth, curvy two-lane roads through some of Tennessee's most beautiful farmland.
Attractions along this route include the Cumberland River Bicentennial Trail, Riverbluff Park, and Brush Creek Recreation Area. As you approach Ashland City, the two-lane road will turn into a four-lane highway. Once you reach downtown Ashland City, you can grab a bite to eat at one of the city's cozy restaurants, such as Cody's Diner or Mama D's.
Foothills Parkway | Beautiful Smoky Mountain Motorcycle Ride Maintained by the National Park Service
Foothills Parkway is one of the many motorcycle roads in Tennessee that is maintained by the National Park Service. This route starts in Chilhowee Tennessee, and ends in Sevierville, Tennessee. Foothills Parkway is 31.5 miles long and takes just under an hour to complete without stops. This beautiful road is Tennessee's oldest unfinished highway project. Congress authorized construction of the Foothills Parkway project in 1944, and it is still yet to be completed due to funding issues.
The Tennessee motorcycle roads along the Foothills Parkway take you directly through the Smokies. There are many lookouts and walking trails along the way, so make sure you are prepared to stop and admire the views of Townsend and the surrounding mountains. This parkway is great for motorcycle riders as commercial vehicles are banned from using the road. This allows for minimal traffic along the way.
View this post on Instagram
Smoky Mountains Loop | Long Motorcycle Ride With Many Stopping Opportunities Along the Way
When searching for motorcycle trails in Tennessee, you can't skip out on the Smoky Mountains Loop. This ride is about 250 miles long and starts and ends in Maggie Valley, NC. The Smoky Mountains Loop gives you a little bit of everything. You will experience windy roads, straight roads, mountains, and valleys. This is a great ride for riders of all skill levels, as the twisty roads are not too crazy and can be taken slowly by beginner riders.
These Smoky Mountain motorcycle roads take you through some of the most well-known attractions in the area. Make sure to take a stop at the Bald River Falls, which is a scenic 90-foot waterfall just off River Road. If you want to tackle multiple Tennessee motorcycle rides at once, then you'll be happy to know that this route intersects with the Foothills Parkway, so you can break off to tackle that ride as well. You can also easily access the Cherohala Skyway via the Smoky Mountains Route.
All of these Tennessee motorcycle rides are a wonderful time! Federal Motorcycle Transport is the best Tennessee motorcycle shipping company and is here for any of your bike transportation needs. When you work with Federal Companies, you can take your time getting to and from Tennessee while we ship your motorcycle to your destination. Don't worry about putting the miles on your bike or riding across the country, we've got you covered!
Our top-rated Tennessee motorcycle shipping company will ship your bike to your destination or to one of our warehouse locations. We have a warehouse in Nashville, TN for you to use at your convenience. Contact us today for a free motorcycle transport quote from our experienced team!