There are many reasons why you might need help shipping a motorcycle. While the most common reason people ship motorcycles is that they're moving somewhere new, you may also need to learn how to ship a motorcycle if you are buying or selling a bike. People may also want to ship a motorcycle because of vintage motorcycle shows.
Sometimes, people have to ship their motorcycle home because they don't have a motorcycle license yet. In other cases, the motorcycle isn't running and can't drive home on its own. For these motorcycles, the only way to get the bike home is through motorcycle shipments.
Motorcycles make up about 3% of registered vehicles in the United States, which works out to about 8.3 million registered motorcycles. The states with the most motorcycles are Iowa, New Hampshire, and South Dakota, which is the home of the Sturgis Motorcycle Rally.
How do you ship a motorcycle? And what is the cost to ship a motorcycle? Get the answers to all of your questions about shipping motorcycles anywhere in the country.
How to Ship a Motorcycle | The Steps & Tips
The first steps in shipping your motorcycle are deciding how you want to ship it and the company you want to use. By using the following steps, you can learn how to ship a motorcycle quickly and easily.
Enclosed or Open Transport
Your first decision is whether you want to use an enclosed or open trailer. Most motorcycle shipping services offer enclosed transport or open transport, but motorcycle moving generally happens in an enclosed trailer. These enclosed transports help to protect your bike from the elements and from thieves.
The only time you want open instead of enclosed transport is if you are shipping your bike a short distance over less than a day. Additionally, you should be prepared for potential damage if you use open transport.
Get a Quote
You don't want to go with the first motorcycle transport service you find. When shipping a motorcycle, you should call multiple providers and ask for a shipping quote on their services. Then, you should choose the provider who is the right choice for your needs and budget.
Check Reviews
If you are trying to find the best way to ship a motorcycle, you can start by reading a shipping company's reviews and testimonials. This feedback will show the experience other customers had, which is a good way to predict whether you will have a good experience or not. If you know someone who has used motorcycle shipments in the past, you can always ask them for their personal recommendation.
Schedule the Service
After you find a company to transport motorcycles, you'll need to schedule the service. Some companies book their services for weeks or months in advance. This is especially true if the company is near major motorcycle rallies.
Before you prepare your motorcycle for shipment, you'll want to schedule the dates and times. Once your appointment is confirmed, you can continue the rest of the shipment process.
Document the Condition of the Bike
Before you get your bike ready for pickup and delivery, you should document its condition. While most bikes arrive without a problem, accidents can happen along the way.
If your bike is damaged, you need to prove the damage in order to get it fixed by the shipping company. This means you should take photos of your motorcycle before you ship it, so you can prove how the damage was caused later on.
Prepare the Bike for Shipping
Now, you can prepare your motorcycle for pickup and delivery. Strapping a motorcycle onto a trailer isn't the safest or most effective way to ship a motorcycle. Before pick-up day, you should do the following steps.
Wash your motorcycle.

Photograph any scratches or damage on your bike.

Check your battery and tire pressure. If the shipper requires you to disconnect your battery, disconnect it.

Get rid of all of your fuel if the shipper requires it. If they don't require it, reduce your fuel to a quarter tank or less.

Disconnect the motorcycle alarm, so it doesn't go off while you are shipping your motorcycle.

Get rid of loose accessories. If the shipper requires handlebars and mirrors to be removed, disconnect them.
You can ask the shipper what kind of crate they prefer. This article also goes into great detail about how to ship a motorcycle and how to safely set it up on a crate.
What do you do with the keys?
You should ask the motorcycle transport service what they want you to do with the keys. Some services will require you to ship the keys with the motorcycle.
What do you do with your helmet?
When you pack the helmet in its original package, it's unlikely to get damaged during transport. If you don't have the original box, you can wrap it in several layers of bubble wrap. Then, it can be securely wrapped in place within a cardboard shipping box.
Choose a Delivery Site
As long as your residence is tractor accessible, you can have a bike delivered straight to your home. You can also have it delivered to a business or an alternative location. If you want to save money on your shipping costs, you can pick it up from the shipping center yourself.
Receive the Bike
Once you determine how to ship a motorcycle, you can simply bring it to the shipping company on the right day or have them come pick it up. They'll handle motorcycle delivery for you, taking care of it from the first moment it's in their possession. After you receive the bike following its delivery, you should check it over for any signs of damage.
When the driver delivers the motorcycle, they'll note any damage on the inventory sheet. Then, you will sign off on any of the damage. If the damage isn't clearly notated when the bike is delivered, you won't be able to file a claim for damages in the future.
How Much Does It Cost to Ship a Motorcycle?
When you consider your travel costs, shipping a motorcycle is often cheaper than driving it somewhere on your own. Overall, the costs to transport motorcycles depend on the season, distance, and shipping method. You can expect to pay extra for things like failed delivery attempts, motorcycle insurance, and additional space for sidecars, trailers, and other attachments.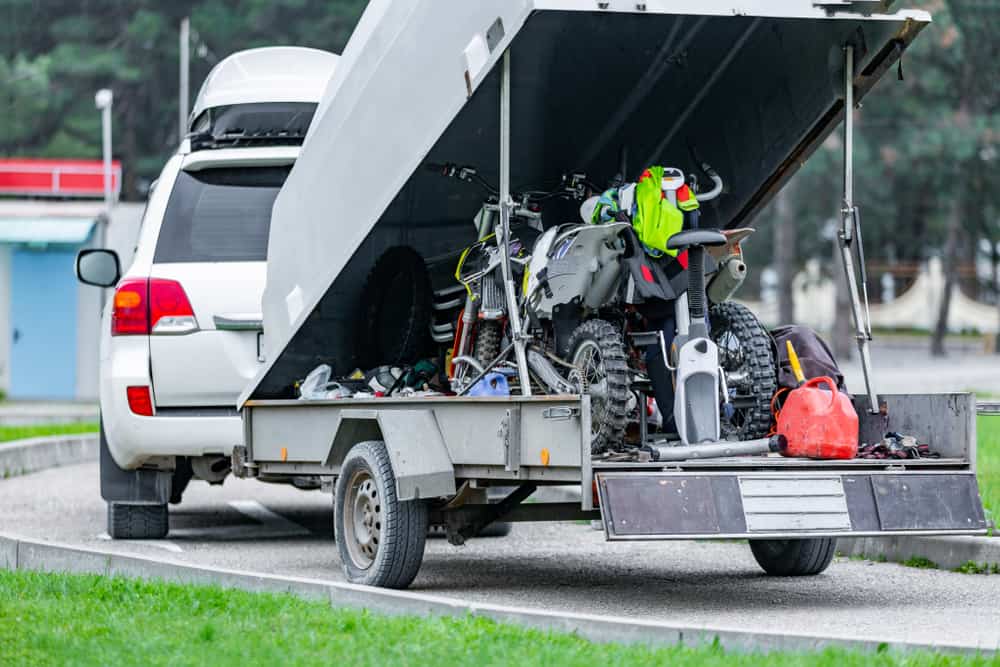 How much does it cost to ship a motorcycle across the country? You can expect to pay $0.30 to $.65 per mile to ship a motorcycle. While a trip from Florida to California costs around $970, you can expect to pay closer to $1,226 to ship a motorcycle from Texas to Washington.
How Long Does Motorcycle Shipping Take?
Along with the cost to ship a motorcycle, you also need to consider how long motorcycle shipping takes. In general, it takes about one to two weeks to ship a motorcycle. The total time depends on whether you are shipping your bike local, long-distance, or overseas.
How Do You Get a Motorcycle Shipped to You?
How do you ship a motorcycle to yourself after buying it online? In general, you'll have to coordinate shipping with the seller or dealer. Since the seller generally picks the shipper they use, you won't have as many options about the cost, shipping schedule, or packing materials.
If you get to choose the shipping company, you can use the same techniques listed above to get shipping quotes, read through reviews, and find the right company. Once you find the right motorcycle shipping services, you should coordinate with the buyer and shipper to get the bike delivered to you.
Discover How Shipping a Motorcycle Works
While it takes time to find the right provider, shipping a motorcycle doesn't have to be difficult. Our team can help you figure out how to ship a motorcycle across the country or around the world. To learn more about our services and find out the best way to ship a motorcycle, contact Federal Motorcycle Transport today at (309) 550-7543!